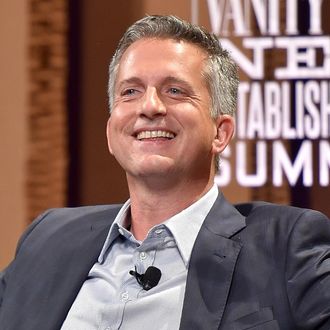 Said Simmons on his relationship with the network: "It could have been friendly, and it's not going to be friendly."
Photo: Mike Windle/Getty Images
Bill Simmons did not leave ESPN on the best of terms, but during a podcast interview with his friend and former Grantland colleague Joe House Thursday, Simmons all but declared war on the network. Simmons — who is set to launch an HBO show as well as a new website, the Ringer, this year — was upset that ESPN won't let anyone from the network appear on his podcast, and said his relationship with his former employer was about to turn even uglier. 
Via Awful Announcing, here's the relevant exchange:
Bill Simmons: I'm glad you mentioned that. You know why I can't have Brian Windhorst on? Because ESPN won't let anyone from ESPN come on my podcast, which is fine, but it's just laying down the ground rules for what is going to unfold over the next few years. It could have been friendly, and it's not going to be friendly.

Joe House: It's already unfriendly.

BS: It's going to be more unfriendly.

JH: I'm excited to see how unfriendly it can get.

BS: Just wait until the Ringer hires a public editor for ESPN, that writes for the Ringer. That's going to get very unfriendly.
By "public editor" he most likely means a contributor at the Ringer who would scrutinize and critique ESPN, much as a publication's internal ombudsman would.
ESPN's podcast policy likely touched a sore spot for the Sports Guy. Simmons is a longtime fan of WFAN radio host Mike Francesa and his former co-host Chris "Mad Dog" Russo, but like all ESPN talent, he'd long been prohibited from appearing on Francesa's show. (ESPN operates WFAN's rival radio station in New York.) In return, Francesa had until recently refused to be interviewed by anyone at an ESPN property, even though Simmons once begged him to participate in a Grantland oral history of WFAN. Last year, after leaving ESPN, Simmons finally was allowed to speak on air with Francesa and said he'd actually gotten in trouble when he "snuck on" once during a remote broadcast in the week before the Super Bowl.