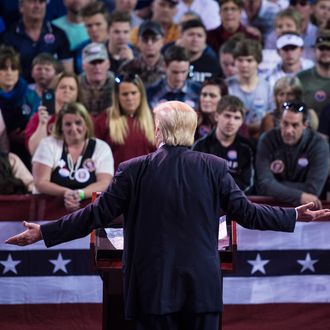 Trump addresses the rest of the crowd at Valdosta State.
Photo: Jabin Botsford/The Washington Post via Getty Images
The Trump campaign may seem impervious to controversy, but no candidate wants to spend the day before Super Tuesday answering questions about why they failed to denounce the KKK and about the Secret Service agent who took down a photographer during a Black Lives Matter protest at their event. The controversy only deepened on Monday night after the Des Moines Register reported that a group of about 30 black Valdosta State University students were ejected from a Trump rally on the Georgia campus, though they weren't being disruptive.
At the earlier event, students at Radford University in Virginia were escorted out by Secret Service agents after they began chanting, "No more hate! No more hate! Let's be equal, let's be great!" The Valdosta students say they were standing silently at the top of the bleachers when they were approached by Secret Service agents, who said Trump had asked that they be removed before he took the stage.
"We didn't plan to do anything," said Tahjila Davis, 19. "They said, 'This is Trump's property; it's a private event.' But I paid my tuition to be here." The students exited quietly, then argued with police officers who explained that they could not attend the Trump event.
"To get kicked out because we're a group of black people … shows you how racist our own school is," Davis added.
Trump campaign spokesperson Hope Hicks said of the claims that the request came from the candidate, "There is no truth to this whatsoever."