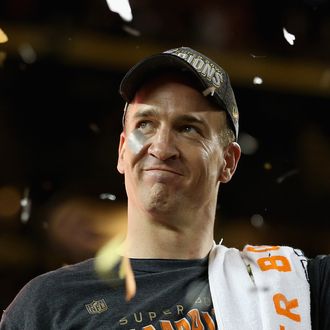 Peyton Manning after winning Super Bowl 50.
Photo: Patrick Smith/Getty Images
Fresh off his second Super Bowl victory, Broncos quarterback Peyton Manning will retire after 18 seasons, the Broncos announced on Sunday. ESPN reports that the five-time MVP told the Broncos of his decision on Saturday night, though it likely came as no surprise since Manning had already heavily hinted that he would be leaving the game. The longtime Indianapolis Colt and 14-time Pro-Bowl participant ends his career as the all-time leader in passing touchdowns, passing yards, game-winning drives, interceptions thrown, games started, and is tied with Brett Favre for the all-time record in quarterback wins.
While the 39-year-old Manning's on-field accomplishments are certain to land him in the Pro Football Hall of Fame, his final season was also marred a debilitating  foot injury, which caused him to miss seven games, as well as some off-field controversy. Manning was linked to the use of human growth hormone by a report from Al Jazeera America — an allegation he denies. Manning was also cited in a lawsuit filed by a group women against the University of Tennessee accusing the institution of, among other allegations, creating a "hostile sexual environment." In that lawsuit, Manning is alleged to have sexually assaulted a female trainer in 1996 while he was a player at the school, a charge which Manning has denied, characterizing the incident as an accident resulting from a mooning prank.
Manning will hold a press conference Monday afternoon to announce the news. The Broncos, who will save $19 million in the upcoming season because of Manning's retirement, are reportedly nearing a deal to lock up their backup quarterback, Brock Osweiler, for three years.