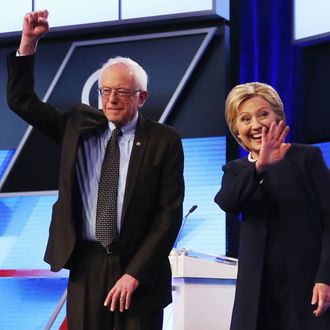 Next stop, Bedford Avenue?
Photo: Joe Raedle/Getty Images
The Battle of Bushwick is coming! The Democratic candidates for president, one a born-and-bred Brooklynite (who campaigns like one, too!) and the other a former New York senator whose campaign headquarters is on Pierrepont Street in Downtown Brooklyn, have both said they are ready to take their contest to Kings County in advance of the state's April 19 primary. 
The Sanders campaign has been publicly calling for a debate in Brooklyn since January. On Tuesday, during a campaign stop in Wisconsin, Hillary Clinton told reporters that she was open to the idea, and her aide Brian Fallon told Bloomberg Television that the campaign had agreed to the idea in principle. (This after Joel Benenson, Clinton's chief strategist, accused Sanders on Monday of running a negative campaign, and demanded a more positive "tone" before agreeing to debates.) 
Before you go move hell and artisanal high water to get yourself a ticket, bear in mind that it's not yet a sure thing, and that neither a date nor a venue has been chosen. (Market Hotel? Brooklyn Bowl? Bernie's old gym at James Madison High School?) Sanders opened a campaign office in Gowanus over the weekend, and both candidates will be stumping in New York this week: Clinton is at the Apollo in Harlem on Wednesday and Sanders in the South Bronx on Thursday.