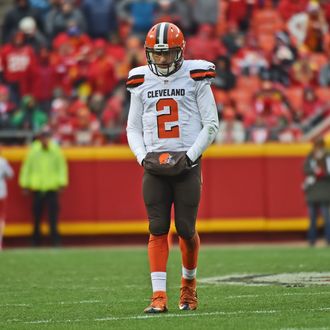 Johnny Manziel is now officially a former Cleveland Brown.
Photo: Peter G. Aiken/Getty Images
Last month, following Johnny Manziel's latest off-the-field incident, the Cleveland Browns all but said they'd be cutting the controversial quarterback. Given that he was being investigated for a possible assault in Texas, the team's director of football operations said "his status with our team will be addressed when permitted by league rules." By that, he meant the Browns would need to wait until the new league year began in early March — and now that it has, they've made it official, waiving Manziel and cutting ties with him once and for all.
Since being drafted 22nd overall by the Browns in 2014, Manziel has faced numerous personal, professional, and legal issues. Near the end of a rookie season in which he struggled on the field, Manziel missed a team walk-through because he had been out late the previous night. In 2015, he went to rehab from January through April as alcoholism rumors swirled. (Manziel has never publicly acknowledged a drinking problem.) Last season, he was temporarily demoted to the Browns' third-string-quarterback role when video surfaced of him partying during the team's bye week shortly after then–head coach Mike Pettine warned him to behave off the field. (Making matters worse, Manziel tried to pass off the clip as old, which it was not.)
A pair of last-straw moments came earlier this year. As team officials grew increasingly concerned about his partying, Manziel missed a scheduled appointment on January 3 in Ohio, reportedly after spending the previous night in Las Vegas, in disguise. Then, last month, Manziel's ex-girlfriend accused him of assaulting her during an altercation. (Manziel said he did not strike her; the Dallas Police Department investigated and has given its findings to the local district attorney for presentation to a grand jury, which will determine whether Manziel will be charged.)
Manziel appeared in a total of 15 games with Cleveland, starting eight of them and throwing seven touchdowns and seven interceptions. The Browns went 2–6 in games he started.
Assuming he clears waivers, Manziel will be free to sign with any team — assuming one is willing to take a chance on him.