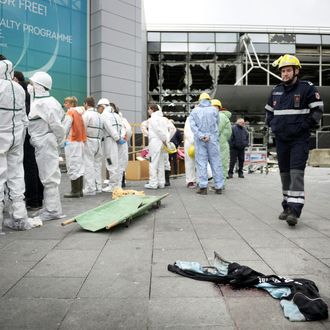 Zaventem airport, after the Brussels attack.
Photo: Yorick Jansens/AFP/Getty Images
After two men blew themselves up in Brussels's Zaventem airport last week, killing at least 11 people, the airport immediately closed to travelers. On Tuesday, authorities there were undertaking a test run to rehearse new security measures and a temporary check-in protocol for departures, as they work out a plan to reopen.
Although officials say the airport's structure is still sound, the departure-hall damage is so severe it will take months to rebuild. "The simple fact is," airport officials said, "that a restart in the short term is not possible."
So comes the contingency plan. About 800 airport employees are returning to the airport Tuesday, under tight security, for the run-through. Police wrapped up the bulk of the investigation Sunday, reports The Independent, but airport officials started putting up temporary structures last Thursday. Airport officials — and government officials, who'll approve the security protocols — will test the procedures for check-in and baggage handling in the new area. They'll also need to go over emergency and fire evacuation plans, and install signs and other markers. The airport's administrators have told the public a few details about how it'll all work: Travelers will check in at temporary desks and turn over their luggage, then use a service entrance to get to the security area. Officials are reportedly still finalizing plans for arriving passengers, but those travelers will probably have to disembark from the plane and take a bus to a temporary location.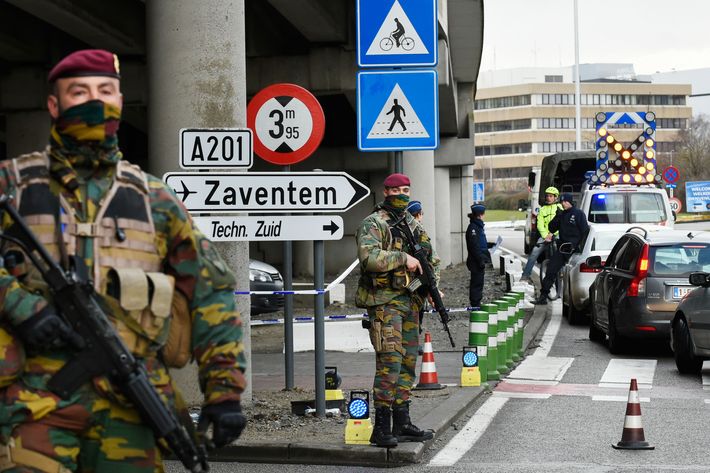 A future security overhaul — something other airports worldwide will likely consider now — will also be in the works. The three alleged attackers wheeled their explosives, hidden in luggage, into the check-in area and detonated them before going through an X-ray machine or search, easily exploiting current security protocols. Now it's likely that people will be searched as soon as they get to the check-in.
As for exactly when all this will happen, the Belgian government gets the final say. If all goes well with the tests, the airport could partially reopen as early as this week. (Brussels Airport confirmed this afternoon it would remain closed Wednesday.) Even then, Zaventem will operate at about 20 percent of its regular capacity, according to the BBC. Brussels Airlines will be the only carrier allowed to operate in the early stages.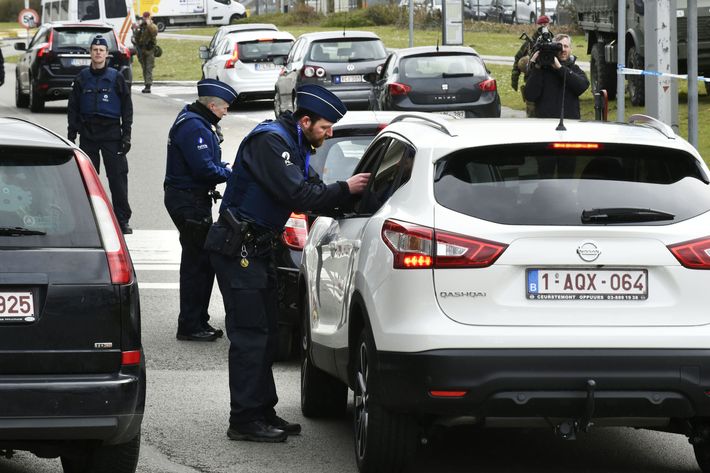 Brussels is a major European air-travel hub and transfer point. Flights to and from Belgium are being diverted to smaller airports in Antwerp, Charleroi, and Liege and also the terminal in Lille, France. Frankfurt and Zurich, two other major hubs, have also absorbed some of the traffic.