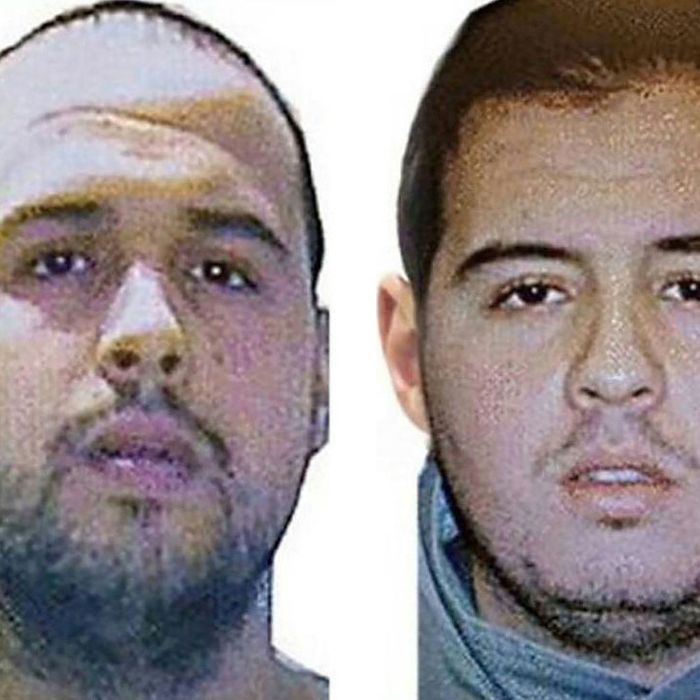 Khalid (left) and Ibrahim (right) el-Bakraoui are alleged suicide bombers who carried out the attacks in the Brussels airport and metro, respectively.
Belgian authorities are piecing together the identities of the men suspected of carrying out Tuesday's deadly terrorist attacks in Brussels that killed more than 30 and left up to 270 injured. The bombings in the European capital came less than a week after Belgian police captured Salah Abdeslam, a Paris suspect who'd been on the run since the November 13 strike. Abdeslam's arrest — and the months-long manhunt to track him down — revealed a deep network of associates with ties to radicalism. Some of those names have resurfaced in the Brussels investigation, hinting at significant links to those who carried out the Paris massacre. Here's what we know so far:
The Attacks
Terrorists targeted two separate locations. Two large explosions erupted in Zaventem airport shortly before 8 a.m., near check-in desks. Suicide bombers caused the blasts. At least 11 people were killed in the airport attack. Later that morning, another suicide bomber blew himself up on a train entering the Maelbeek subway station, close to the European Union headquarters. The carnage left 20 dead and scores injured.
Authorities believe five men directly participated in the attacks. They have now identified three suspected attackers: brothers Khalid el-Bakraoui, 27, and Ibrahim el-Bakraoui, 30, and Najim Laachraoui, 24. Laachraoui and Ibraham el-Backraoui carried out the airport attacks. Khalid blew himself up in the Maelbeek metro station. All three are believed dead. 
Authorities found the fingerprints of Ibrahim — the Zaventem airport bomber — at the scene, reports The Guardian. He is seen on surveillance footage (below), dressed in black (center), with two other men. The man on the left, also clad in black, is assumed to be the second suicide bomber. CBS News reports that sources with the Belgian police are identifying the second suicide bomber as Naijim Laachraoui; police earlier Wednesday thought Laachraoui had escaped, making him the target of a nationwide manhunt and the most-wanted man in Europe.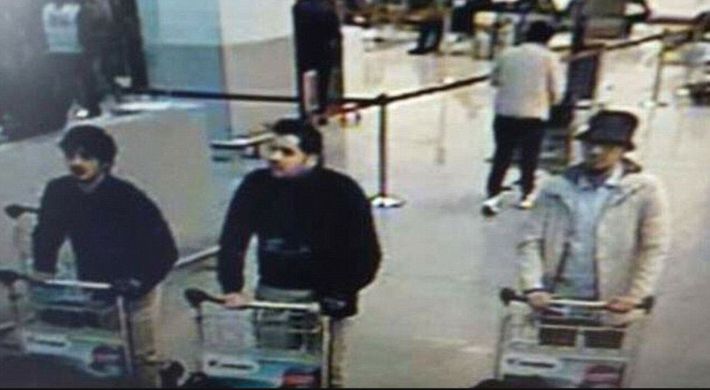 That still leaves one airport attacker at-large, though his identity is unknown. Investigators say this man likely left a powerful unexploded bomb behind in a piece of luggage that squads found and later blew up in a controlled detonation. At first, police thought this suspect may have panicked and fled, but they now say it's more likely his getaway was part of the plan.
The second brother, Khalid, died in the blast at Maelbeek metro station — though authorities haven't ruled out the possibility that he also participated in the airport massacre. Authorities also said Thursday that they are seeking a fifth suspect, who may have participated in the attacks. Security cameras captured images of this man in the metro station walking next to Khalid el-Bakraoui, lugging a large bag. Police don't know whether he is alive and at large, or if he died in the attack.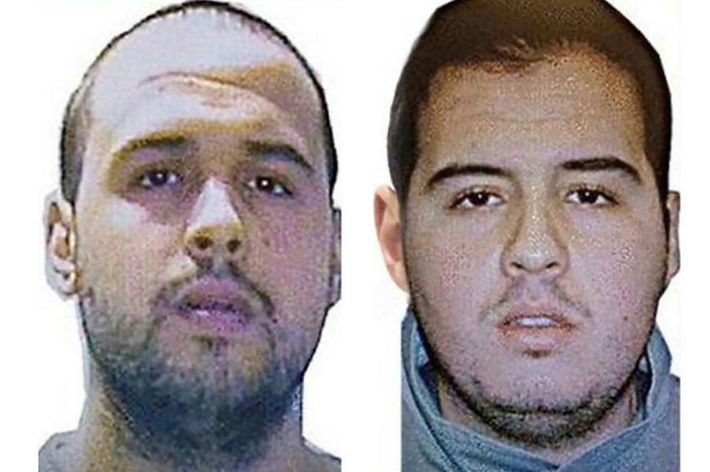 The Attackers
Khalid and Ibrahim el-Bakraoui
The el-Bakraoui brothers had been known to Belgian police as criminals and gang members with long rap sheets. They came under scrutiny by police for extremist ties following anti-terrorist operations in Belgium last week linked to the Paris strike, though reports are starting to leak out that law enforcement may have been aware of the brothers' radicalization earlier.
Khalid, the man responsible for the metro bombing, had been wanted as early as August of last year, when Belgian police put out an Interpol "red notice" for terrorism charges, reports the Times. The notice had gone out after Khalid violated parole for a 2011 sentence involving carjacking and assault-weapons possession.
Belgian police had apparently ramped up the hunt for him last week, after a March 15 anti-terrorist raid at an apartment in a Brussels neighborhood that erupted into a shoot-out with police. Investigators later found Paris suspect Salah Abdeslam's fingerprints after that operation (Abdeslam was arrested Friday, a few days later). They traced the raided apartment back to Khalid, who had apparently been renting the home under an alias. 
Ibrahim, who blew himself up at the Brussels airport, had also been the target of police following the March 15 raid, though his involvement in that incident is less clear right now. He was convicted of shooting a police officer during an armed robbery in 2009 and, according to the Times, was sentenced to nine years in prison. It's unclear why he was released.
Later Wednesday, Reuters reported that Turkish prime minister Tayyip Erdogan said that Ibrahim had been detained in Turkey last June on suspicions he was attempting to cross into Syria. Turkish officials informed Belgium authorities in early July that he'd been arrested, and allegedly debriefed on his ties to Islamic militants. Belgian apparently ignored the warning, so Turkish officials deported him back to the Netherlands at Ibrahim's request. Erdogan says he warned European officials in Belgium and the Netherlands about that decision, but nothing prevented Ibrahim from moving freely around the European Union, according to the Guardian. 
Yet Ibrahim apparently knew he was a wanted man, at least after last week's raids that led to the arrest of Abdeslam. He had apparently steeled himself for the suicide mission, too. Authorities apparently found a note and will on a computer in a trash can outside an apartment that police raided Tuesday after the attacks. (The raid also turned up more than 30 pounds of an explosive material and an ISIS flag. The tip came from the cabbie who drove the men to the airport.) According to USA Today, the note made veiled reference to the arrest of Paris attacker Abdeslam: "Being in a hurry, I don't know what to do, being searched for everywhere, not being safe. If it drags on it could end up with me in a prison cell next to him."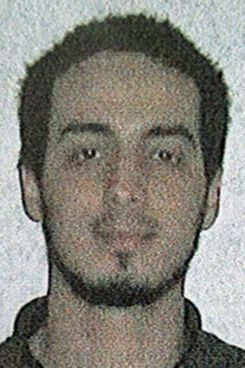 Najim Laachraoui, 24
Belgian authorities told the public Monday that they were aggressively searching for 24-year-old Laachraoui, a known associate of captured Paris attacker Salah Abdeslam and alleged bomb-maker. He was the target of a massive manhunt earlier, but now sources are saying that Laachraoui also blew himself up in the Zaventem airport. 
Police suspect that Laachraoui, a Belgian citizen of Moroccan descent, may have been the bomb-maker in the Paris attacks, and it's likely that he helped put together the explosives in the Brussels blast. His DNA was also found at the site Belgian police raided Tuesday after the attacks.
Laachraoui grew up in the Brussels neighborhood of Schaerbeek and apparently attended a Catholic high school in the community where he studied electromechanical engineering.
Laachraoui, who had also been using the alias of Soufiane Kayal for some time, traveled to Syria in 2013, where, according to the Washington Post, he may have received explosives training. Here is his laundry list of links to the Paris massacre, as reported by Daily Intelligencer Monday:
Laachraoui had traveled to Budapest with Abdeslam in September of last year, two months before the terror attacks. (They went with Mohamed Belkaid, who was killed in a Belgian police raid last Tuesday.) CNN also reports that he communicated over the phone with the alleged Paris mastermind, Abdelhamid Abaaoud. According to the Times, he also (as Kayal) rented a house outside of Brussels that may have been used by the Paris attackers before the November 13 massacre; authorities identified Laachraoui's DNA there when they searched the place about two weeks after Paris. Both Laachraoui and Abdeslam's DNA turned up again in December in a Brussels neighborhood during an anti-terrorism investigation. 

… Investigators matched Laachraoui's DNA to that on at least two suicide belts used in Paris. Authorities also found remnants of explosive powder often used in those devices in the house that he had rented — all of which certainly suggests this guy had a serious role in prepping or planning for Paris. 
Belgian police made one arrest Wednesday in connection to the attacks, but his identity or the reason behind his detainment are still unknown. (Reports, now debunked, said Laachraoui was taken into custody.)
This post has will be updated as more information becomes available.