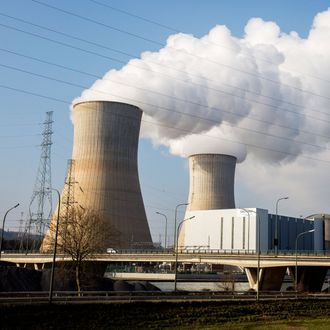 The nuclear power plant in Tihange, Belgium.
Photo: Julien Warnard/epa
Hours after suicide bombers struck a Brussels airport and metro station Tuesday, Belgian officials evacuated all nonessential workers from one of the country's major nuclear facilities, Tihange. The head of Belgium's nuclear regulatory agency had said that no direct threats to the plant existed, but that the move was "based on new information, and the events of today. Extra security measures were taken."
Yet new reports indicate that authorities knew of a plausible threat involving its nuclear infrastructure, based on intelligence gathered during raids prompted by the November 13 terrorist strike on Paris. After that operation — where one person was arrested on murder and terrorism charges — Belgian authorities uncovered about ten hours of secretly recorded footage of one of Belgium's top nuclear scientists and researchers. The camera, which CBS News says was mounted and hidden under a bush near the scientist's home, recorded his comings and goings. Officials suspect those spying on him may have been tracking his movements in advance of a kidnapping, in order to gain information or access to a nuclear research facility in Mol. (According to Belgian reports, the scientist did not have clearance at Tihange or the other big power plant in Doel.) Those operatives — with likely terrorist links, based on where the video turned up — may have wanted to steal radioactive materials for a dirty bomb. 
Belgian officials admitted publicly in February that they had this tape of the scientist, says a previous report by the New York Times, but authorities recovered the footage November 30. Per the Times:
Sébastien Berg, a spokesman for Belgium's Federal Agency for Nuclear Control, said that the agency had been informed right away of the existence of the footage and that employees had been told to increase their vigilance on the work floor. But he acknowledged that no additional guards had been hired or other measures taken to secure the perimeters of Belgium's nuclear sites.
According to The Independent, officials said they believed the tapes showed the threat was directed at the nuclear scientist and not necessarily at a specific nuclear plant or research facility. 
Officials, trying to investigate who had stalked the scientist, later viewed surveillance images revealing that two men had picked up the hidden camera from the shrubs and driven away with it. Speculation has already begun that those two men were Brussels suicide bombers and brothers Khalid and Ibrahim el-Bakraoui, though that information has not been confirmed. 
According to Belgian media outlet RTBF, at least 11 workers at the Tihange nuclear facility — which, again, was evacuated after Tuesday's strikes — have been banned from the premises since last week. The plant took away security access to the first seven people following an anti-terrorist raid March 15 in Forest, a Brussels neighborhood. That raid erupted in a shoot-out, with one suspect linked to the Paris terror attacks being killed. That raid also helped police home in on wanted Paris attacker Salah Abdeslam; police detected his fingerprints at the scene, along with an ISIS flag and weaponry. (In another Paris-Brussels link, Khalid el-Bakraoui, who blew himself up at the Maelbeek metro station Tuesday, was the lessee of that raided apartment.) 
Four more people were apparently denied access to Tihange following the airport and metro bombings Tuesday, says RTBF. No other details have been provided. 
CBS News also reports that the terrorist cell may have planned to strike March 28, the day after Easter, but moved up the plans with Belgian police possibly closing in following the Friday arrest of Abdeslam. (Abdeslam's attorney claims his client only found out about the attacks after they happened.) On the Monday following Abdeslam's arrest, law enforcement set off a huge manhunt for Najim Laachraoui, a known Abdeslam associate whose fingerprints were found on suicide vests used in Paris. The next day, Laachraoui, the likely bomb-maker in Brussels and Paris, blew himself up in the Zaventem airport along with Ibrahim el-Bakraoui.