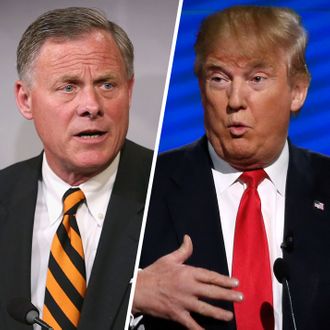 Richard Burr is probably not feeling comfortable right now.
Photo: Mark Wilson/Getty Images; Rhona Wise/AFP/Getty Images
There's been a lot of fairly general talk about the potential impact of a Donald Trump presidential nomination on down-ballot GOP candidates, especially those seeking to hang on to Republican control of the Senate. Some new public-opinion research from Public Policy Polling in its home state of North Carolina shows what this might mean very tangibly. 
Here's the key finding for Republican senator Richard Burr, who's up for reelection this year:
Richard Burr has indicated that he will support the Republican nominee for President regardless of who it is. We find that voters are less likely to vote for Burr by a 26 point spread if he supports Trump for President- doing that would make 48% of voters in the state less inclined to vote for the incumbent compared to only 22% who would be more likely to vote for him. That's a good early indicator of the trouble Trump poses for his party. Another thing making life harder for Burr is the heavily damaged brand of Senate Republicans. Only 15% of voters in North Carolina approve of the job Mitch McConnell is doing, compared to 51% who disapprove. And one issue fueling that unpopularity is the intransigence on the Supreme Court seat- 52% of North Carolinians want to see it filled this year, compared to just 41% who think it should be left empty.
North Carolina is one of the more Republican-friendly of the likely 2016 battleground states, since it went narrowly for Mitt Romney in 2012. And Burr hasn't generally been considered one of the most vulnerable incumbents; his race is rated "Lean R" by the Cook Political Report. But a combination of suffering from the unpopularity of Washington while being lashed to the wrong anti-Washington candidate could be a problem for Burr and others.