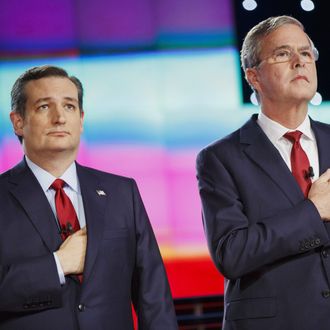 True Detective
season three.
Photo: Patrick T. Fallon/Bloomberg Finance LP/Getty Images
On Tuesday, Ted Cruz called for law enforcement to "patrol and secure Muslim neighborhoods before they become radicalized." On Wednesday, Jeb Bush endorsed Cruz as an antidote to Donald Trump's "divisiveness."
"Ted is a consistent, principled conservative who has demonstrated the ability to appeal to voters and win primary contests," Bush said in a statement released early Wednesday. "For the sake of our party and country, we must move to overcome the divisiveness and vulgarity Donald Trump has brought into the political arena, or we will certainly lose our chance to defeat the Democratic nominee and reverse President Obama's failed policies."
Cruz is certainly less vulgar than the candidate who threatened to "spill the beans" on his wife last night.
But the idea that the Texas senator doesn't bring "divisiveness into the political arena" would be news to his Senate colleagues, whom he has repeatedly demonized for insufficient partisanship. It would also be news to anyone who thinks the president is not a secret Muslim whose White House is full of stealth jihadists working to bring sharia law to the United States — last week, Cruz named a man who has espoused such notions as his top foreign-policy adviser.
Still, Bush's other rationalizations for backing Cruz make sense. On paper, John Kasich looks more like Bush's ideal nominee, which is to say he looks more like Bush himself — a pseudo-moderate swing-state governor. But when you add his delegate total to that paper, Kasich also looks like an also-ran. For sincere #NeverTrump conservatives, the choice in this race is clear.
While Bush's endorsement will swing roughly as many votes as Jeb has family members, his backing is still a big win for Cruz. The nod gives the senator Establishment credibility and access to the Bush family's vast donor network, while marginalizing Kasich.
For Cruz, Bush's endorsement is the latest in a string of approving gestures from the Republican Establishment. As Politico notes, Mitt Romney recorded get-out-the-vote calls for Cruz ahead of Tuesday's Utah primary, and Senator Lindsey "I'd kind of like to see Ted Cruz murdered" Graham held a fund-raiser for the Texan on Monday.
In the bizarro world that Trump has created, the far-right ideologue with no friends in the Senate is a darling of the Establishment; the candidate calling for the pseudo-occupation of Dearborn, Michigan, is a unifier. But if this year's topsy-turvy cycle has you pining for the corrupt, dynastic politics of yesteryear, fear not: The Washington Post's Ed O'Keefe notes that the restoration of dynasty may be Bush's true motivation.
"And don't forget George P. Bush. The 39-year old Texas land commissioner is now considered the Bush family's next best hope to reclaim the White House, but he cannot expect to easily advance in Texas state politics without Cruz's support."