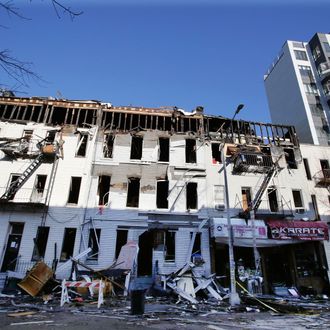 The aftermath.
Photo: Mark Lennihan/AP
A humongous fire lit up the Bushwick sky last night, gutting three buildings and seriously damaging two more on Dekalb Avenue between Knickerbocker and Wilson Avenues. It took 200 firefighters to put out the six-alarm blaze, and 11 people, including one of those firefighters, were injured. (Mercifully, there were no deaths.) The Red Cross said that more than 30 families were burned out of their homes. The FDNY is still looking into the cause of the fire.
The fire also claimed an odd Brooklyn institution: the Bushwick pigeons. Their coop sat atop of one of the buildings, and 500 trapped birds were killed before they could escape, the New York Post reports. The birds were a staple of the neighborhood, flying to and fro in rehearsed patterns for hours at a time. Edwin Torres, whose family was displaced by the fire, told the Post that he heard the birds "screaming like babies" as the building was consumed.