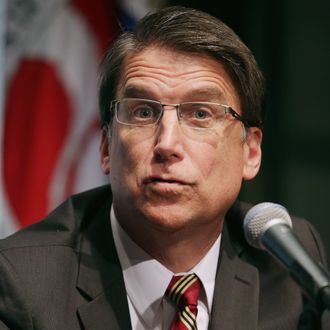 Governor Pat McCrory signed the bill into law yesterday.
Photo: Chip Somodevilla/2015 Getty Images
North Carolina's passage of an anti-LGBT law yesterday did not sit well with large companies such as PayPal, IBM, and the NBA. The law was passed in record time in response to a nondiscrimination ordinance issued in Charlotte last month, which would have allowed transgender people to use bathrooms that match their gender identity. The new law both strikes down that ordinance and prohibits local governments from enacting anti-discrimination policies. It's been decried by many as a dangerous step backward for LGBT and transgender rights, including companies with major hubs in North Carolina.
Shortly after Governor Pat McCrory signed the bill into law, companies such as PayPal, IBM, Dow Chemical, and Biogen expressed their displeasure with the state's decision on social media. According to the Washington Post, both IBM and Biogen have research facilities in the state, and PayPal had "announced plans to hire 400 people in Charlotte only last week." 
What's more, the National Basketball Association, which was slated to host its All-Star Weekend in Charlotte in 2017, issued a statement saying it might reconsider. "The NBA is dedicated to creating an inclusive environment for all who attend our games and events," the statement reads. "We are deeply concerned that this discriminatory law runs counter to our guiding principles of equality and mutual respect and do not yet know what impact it will have on our ability to successfully host the 2017 All-Star Game in Charlotte." 
A nudge from good old corporate America would certainly make lawmakers think twice about the bill, Michael Bitzer, a political-science professor at Catawba College in Salisbury, North Carolina, told the Post. "If businesses are starting to look at North Carolina and says this is not the environment we want to be in, that could have some blowback," he said. "And McCrory would be in the bull's-eye."
North Carolina lawmakers have yet to comment on that possibility. Ricky Diaz, a spokesperson for McCrory's re-election campaign, told the Post that "other businesses have voiced support" for the measure, but he declined to name any specific business.