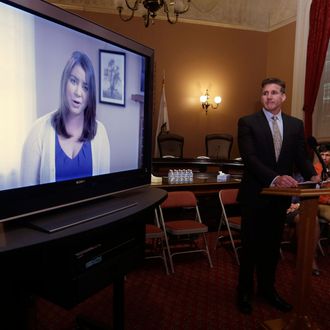 Brittany Maynard was a major advocate of the right-to-die movement.
Photo: Rich Pedroncelli/AP
Advocates for the right-to-die movement in California are telling patients with terminal diseases to begin consulting with their doctors if they are considering assisted suicide. The End of Life Option Act that Governor Jerry Brown signed last October, allowing physicians to administer life-ending medicine in consultation with a patient, will take effect on June 9. California joins Oregon, Washington, Vermont, Montana, and New Mexico, becoming the sixth state where doctors administering life-ending drugs do not risk prosecution.  
In January the state published guidelines for how the lethal drugs can be prescribed and administered, establishing a lengthy process to ensure that patients are making informed decisions. Any patient wishing to be prescribed lethal dosages have to make two verbal requests, 15 days apart, and one written request. He or she has to be at least 18 years old, and a physician has to rule out mental illness.
Toni Broaddus, the campaign director for the advocacy group Compassion & Choices, told the L.A. Times that she does not expect a rash of suicides to take place in California on the first day they're legal. In Oregon, she says, patients typically order life-ending drugs well before they plan to use them, often because they plan to hold off until the last possible moment.