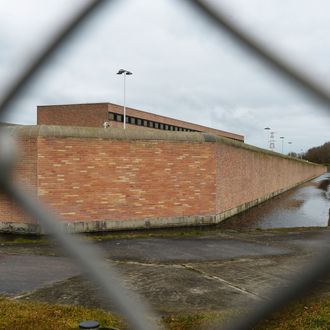 Abdeslam is being held in the Bruges prison.
Photo: JOHN THYS
On Friday, Belgian authorities announced they'd captured Salah Abdeslam, one of the key suspects in the Paris terrorist attacks, after a shoot-out in a Brussels neighborhood. Abdeslam, the only suspected attacker who's still alive, was arrested with two other suspects and is being held in the Belgian city of Bruges. According to The Wall Street Journal, Abdeslam told authorities during his interrogation that he'd been ready to "carry out follow-up attacks." He also revealed that he'd used a network of family and friends to successfully hide from authorities for four months, and that he's part of a much larger terrorist organization than they originally suspected. The investigation suggests fighters in Syria could mobilize sympathetic locals to carry out more attacks.
"We have found a lot of weapons — heavy weapons — in the first investigations, and we have found a new network around him in Brussels," Belgian foreign minister Didier Reynders said. He went on to say that officials had discovered more than 30 people involved in the Paris attacks, "But we're sure there are others." They're reportedly still looking for at least one Syrian-trained fighter who worked with Abdeslam. 
Belgian justice minister Koen Geens said the primary danger in attacks such as those in Paris is "the cooperation between local networks that are very integrated and people who are trained and come from the Middle East." He went on, "People are coming over from Syria constantly. They are unknown to us. That's a challenge we face."
Abdeslam himself is a French national of Moroccan descent who lived in Molenbeek, a predominantly Muslim neighborhood in Brussels. He reportedly linked up with two Syrian fighters — Mohamed Belkaid and Soufiane Kayal — in Budapest two months before the Paris attacks. (He also coordinated with another Syrian fighter, Amine Choukry, before the attack, although authorities have yet to determine when.) Belkaid was killed in a shoot-out with police last Tuesday, Choukry was wounded and hospitalized, and Kayal is still on the run.
Because he had local ties, Abdeslam was able to use the homes of friends and family members in and around Brussels to evade authorities. Although he mostly hid in abandoned houses and apartment buildings, a distant cousin of his offered to shelter him in his mother's basement, and two of his childhood friends are suspected of picking him up in Paris after the attacks and driving him back to Brussels — both say they didn't know Abdeslam was involved in the attacks.