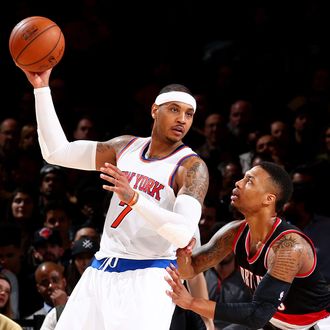 Carmelo Anthony during Tuesday night's Knicks loss to Portland.
Photo: Nathaniel S. Butler/Getty Images
Even with a player as promising as Kristaps Porzingis on the roster, the 25–37 Knicks are still pretty lousy, ahead of only Brooklyn and Philadelphia in the Eastern Conference standings. A coaching change hasn't made things any better, and now even Carmelo Anthony can't hide his frustration. Tuesday night, with Anthony on the bench late in the team's 104–85 loss to Portland — their 15th defeat in their last 18 games — a heckler was riding him with owner Jim Dolan within earshot. And so Anthony pointed at Dolan and told the fan, "Ask for your money back."
Anthony recounted the scene after the game. Via the New York Daily News:
"He kept calling my name, calling my name, saying 'You guys suck, you guys suck,'" Anthony revealed. "At that point I was trying to gather myself and I turned around, all I did was point at Dolan and told him, 'Look, the owner's right there. Ask for your money back.'

"He's calling me and telling me he's never coming to another game and we suck. Just don't want to hear that. I pointed to the owner and told him you deal with that with him, maybe you can get your money back."
The paper notes that Anthony has a good relationship with Dolan, so he wasn't likely assigning blame to the owner. "It gets frustrating," Anthony said. "The losing gets frustrating, disappointing. The way that we ended that game was disappointing."
The fan was escorted out of the building by security with 4:13 remaining in the game. But unfortunately for him and other disgruntled Knicks fans, they can't simply get a refund if they're not happy with the product on the court. If that was the case, the team probably would have folded years ago.