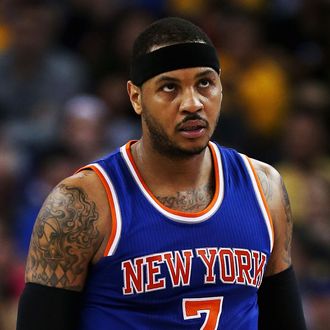 Carmelo Anthony says he's not sure whether he'll be with the Knicks next season.
Photo: Ezra Shaw/Getty Images
It's been yet another disappointing season for the Knicks: At 28–41, they have the third-worst record in the Eastern Conference and, despite a coaching change, are still on track to miss the playoffs for the third straight year. Lately, there's been speculation about whether the team might trade All-Star Carmelo Anthony, and Anthony today acknowledged that he's not sure what his future holds.
Anthony was asked Friday if he was going to be with the team next season, and he reportedly seemed fed up with the questions about his future. From the Daily News:
"S—, I don't know. Honestly, it's hard to answer those type of questions when you really don't know what's going to happen towards the end of the summer," he said. "We still have a month left in this season. So to think about whether I'm going to be on this team next summer, that's for you to speculate."
His talk about the uncertainty of this summer suggests his future in New York could depend on what team president Phil Jackson does to improve the roster. In other words, if Anthony thinks Jackson hasn't done enough to make the team better before next season, he could waive his no-trade clause, opening the door for a move. Said Anthony: "It's on the front office to do their jobs for what they see fit for this team, what this team needs, what this team don't need. It's up to them."
In an interview on Wednesday, Anthony was asked how much power he has with his no-trade clause. His answer? All of it. From Yahoo Sports:
"I guess I have all the power. If I really wanted to get out of this situation I could have waived that no-trade clause. But I've stuck with it and I'm still sticking with it. I don't know, maybe my loyalty has come back to bite me in the ass. As of right now, I am sticking to it."
In that same interview, Anthony — who re-signed with the Knicks for five years and $124 million in 2014 — said, "I wanted to be here. This is a place I wanted to be. This is a place where I envisioned myself, winning in New York." Whether he'll want to be here beyond this season, though, is now in doubt.