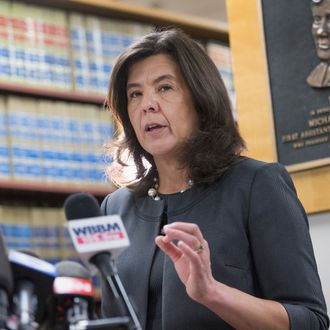 Although she was the incumbent, Alvarez lost by a landslide.
Photo: Scott Olson/2015 Getty Images
In October 2014, Chicago police officer Jason Van Dyke allegedly shot 17-year-old Laquan McDonald in the back 16 times. Neither Van Dyke nor any other officer on the scene was charged for the incident until a police video of the incident was made public last November, leading Chicago residents to criticize Mayor Rahm Emanuel and former Chicago police superintendent Garry F. McCarthy for the way they handled the case. (Emanuel fired McCarthy in December in an attempt at damage control.) Cook County state's attorney Anita Alvarez also came under fire for waiting 400 days before filing charges against Van Dyke, and on Tuesday, Cook County voters made their displeasure known by denying Alvarez a third term in office.
Alvarez lost by a landslide to Kim Foxx, a former chief of staff to Cook County board president Toni Preckwinkle. At the time the race was called — with 82 percent of precincts reporting — Foxx was up by more than 20 percent. In conceding the race to Foxx, Alvarez said she was proud of the work she'd done in office and would work to facilitate a "smooth transition." She also acknowledged the political turmoil surrounding the election: "I have been criticized that I wasn't a very good politician and that's probably right," she said. "And that's probably why I stand before you tonight."
She went on, "The struggles here are very real. The need to rebuild a broken criminal-justice system in Cook County is not work that should be taken lightly. The gulf between law enforcement and our communities must be breached."
Her loss comes the day after the Daily Beast released a review that found Alvarez had "declined to file charges against Chicago police officers involved in the fatal shootings of at least 68 people in the last seven years," although no documentation was available to explain why she decided not to file charges. In the case of McDonald, Alvarez reportedly blamed an investigation by the U.S. attorney's office for the delay in filing charges. "I've done nothing wrong," she told Chicago magazine in January. "I will not apologize for the meticulous, thorough investigation we did."
Although Alvarez had more experience than either of her opponents, her involvement in this and other controversial cases stripped her of the Democratic Party's support — activists rallied against her on Twitter using the hashtag #ByeAnita. Tom Balanoff, Illinois state council president of the Service Employees International Union (SEIU), told the Post that Foxx's victory was "a decisive vote for transparency and the reform of [the state's] broken criminal justice system." He went on, "We will continue our fight to eradicate the economic, social and racial inequality that currently plagues our state."