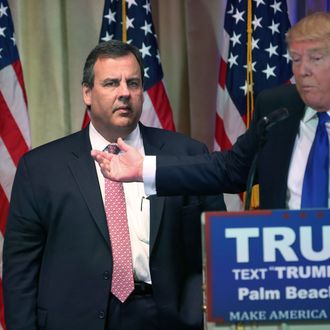 Free Christie.
Photo: John Moore/Getty Images
Chris Christie said at a press conference Thursday that he is not being held hostage by Donald Trump. The notion that Christie might be in thrall to the GOP front-runner spread across social media earlier this week, when the New Jersey governor cycled through a range of pained expressions during Trump's Super Tuesday victory speech.
"I don't know what I was supposed to be doing. I was standing there listening to him. And all these armchair psychologists should give it a break," Christie said. "It was not the kind of circumstance where I would be jumping up and down and cheering and smiling. He was answering questions from the national press corps, and I was listening."
"I understand everybody had a lot of fun with it. I've had a lot of fun on the internet with people at times, too," the governor continued. "But for those who are concerned: I wasn't being held hostage."
Of course, when you think about it, isn't that exactly what a hostage would say?