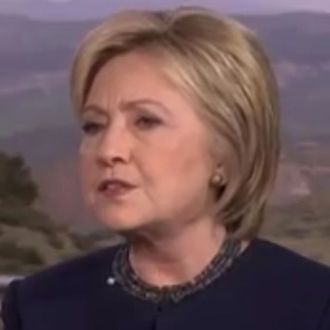 Aw, Hill no!
Photo: MSNBC
The first rule of Nancy Reagan Hagiography Club is don't talk about the AIDS crisis. The Reagan White House's negligence during the HIV epidemic is the elephant in every room where the former First Lady is eulogized. But on Friday, Hillary Clinton mistook that elephant for some kind of trophy and held it up for all to see.
"It may be hard for your viewers to remember how difficult it was for people to talk about HIV/AIDS back in the 1980s," Clinton told MSNBC. "Because of both President and Mrs. Reagan, in particular Mrs. Reagan, we started a national conversation when, before, nobody would talk about it. Nobody wanted to do anything about it. And that, too, is something that I really appreciate with her … very effective, low-key advocacy. But it penetrated the public conscience and people began to say, 'Hey, we have to do something about this, too.'"
Clinton's Iraq War vote was a big mistake, but it's possible that she's never been more wrong than she is here. The Centers for Disease Control and Prevention released the first medical report about HIV in 1981. President Reagan gave his first major public address on the subject in 1987. In 1984, after more than 3,000 Americans had been killed by the virus, the notion that the president may have given the matter any thought was cause for laughter in the Reagan White House.
At the GOP convention that year, the president of American Airlines opened a breakfast speech by joking that gay was actually an acronym for "got AIDS yet?" When the Reagan administration finally did start "the national conversation" about the disease six years and 25,000 deaths into the crisis, he made sure to note that the "final judgment" on the souls of the dead was "up to God."
Nancy Reagan was a trusted adviser to the most powerful man in the world and remained silent about HIV for years into the plague. As BuzzFeed's Chris Geidner documents, nine weeks before her friend Rock Hudson died as a result of the disease, he sent a request to the First Lady, asking the White House to help him gain access to a French military hospital. Mrs. Reagan denied his plea.
Clinton issued an apology over Twitter late Friday afternoon.
This post was updated to include Clinton's apology.