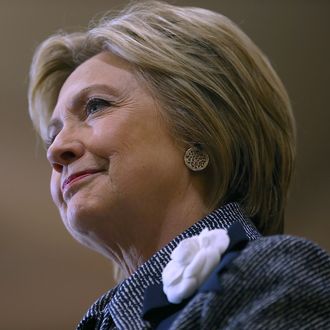 Photo: Justin Sullivan/2016 Getty Images
Hillary Clinton won all three midwestern primaries Tuesday night, widening the gap between herself and Bernie Sanders and inching closer to the Democratic nomination. Just before 9 p.m. EST, several outlets reported that Clinton had defeated Sanders by a wide margin in Ohio; based on the Upshot's final count, she took the Buckeye State by more than 13 points. Meanwhile the Associated Press and other outlets called the race in Illinois just after 12 a.m. EST. Clinton's victory there was narrower; with 97 percent of precincts reporting, she was only ahead by one point.
But Clinton's victory in Missouri was the most tenuous, coming down to fewer than 2,000 votes. Shortly after 1 a.m. EST NBC named her the "apparent winner," and a final count showed Clinton winning by a narrow 0.2 percent, or 1,531 votes.
Clinton's wins in Ohio, Illinois, and Missouri bring her total for the night up to five; earlier in the evening she wracked up wins in Florida and North Carolina. In a speech after her Ohio victory, she called March 15 "another Super Tuesday" for her campaign and hinted that she's already looking ahead to the general election. Clinton's delegate count is now well ahead of Sanders's.
Nevertheless, Sanders's campaign sent out a press release Tuesday reassuring his supporters that "elected delegates" will "take us all the way to the Democratic National Convention in Philadelphia." 
A rally for Sanders in Phoenix, Arizona, drew huge crowds Tuesday afternoon; Arizona's Democratic primary will take place on March 22.