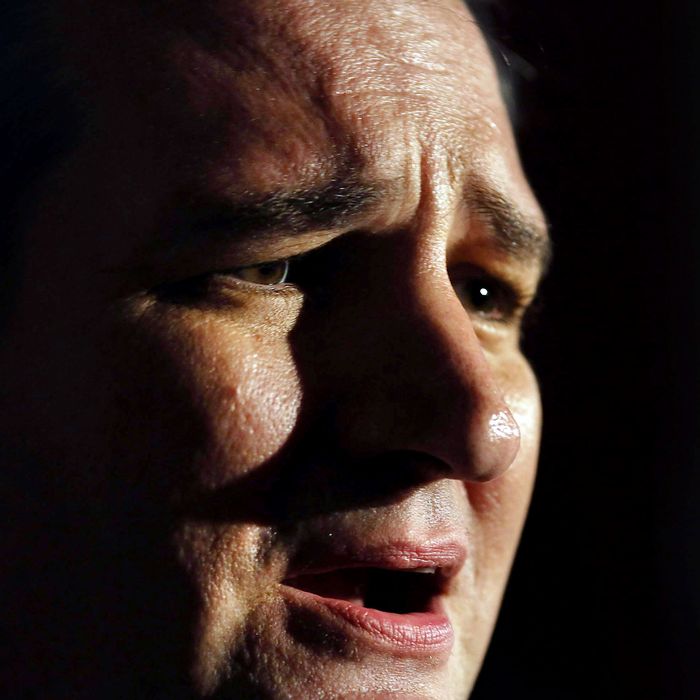 Cruz asks godless, hedonistic New Yorkers for their vote.
Photo: Spencer Platt/Getty Images
Most presidential candidates would steer clear of a state after famously bashing it as a symbol of everything wrong with America, but Ted Cruz is a man who doesn't let being hated stand in his way. Cruz kicked off his feud with the Big Apple back in January, when he declared "the values in New York City are socially liberal or pro-abortion or pro–gay marriage, focus around money and the media." Though Donald Trump responded with a burn so bad Cruz was forced to applaud, the senator went on to appeal to Iowans with an anti–New York ad. And just this week Cruz got into a war with NYPD officials when he praised the Bloomberg-era spying on Muslim communities in response to the Brussels terror attacks.
Nevertheless, Cruz decided to launch his effort to win New York's 95 delegates with a speech in Manhattan on Wednesday. Cruz boasted about his fight with Bill de Blasio and named several other New York Democrats, betting that members of the Women's National Republican Club aren't fans of their own elected officials.
"I arrive in New York, and Mayor de Blasio promptly held a press conference to denounce me — so I must be doing something right," Cruz said. "If Mayor de Blasio ever holds a press conference and says 'I agree with Ted,' that will be the instant I hang it all up and realize I've gone terribly, terribly wrong."
He went on to praise Mayor Bloomberg for his "proactive policing," and noted that Donald Trump has donated to money politicians like Representative Charlie Rangel and former representative Anthony Weiner. "I think we have an inherent advantage because the people of New York know Donald Trump," he said of his chances in the state.
It's true that New Yorkers don't exactly see the Queens-born Trump as a hometown hero, but two polls conducted in the last month show the real-estate mogul trouncing Cruz in New York's April 19 GOP primary by as much as 52 points. Still, it does make sense for Cruz to fight for the Empire State. Delegates are awarded by congressional district in New York, and CNN reports that the Cruz camp is planning to target particular areas where he can pick off delegates.
CNN says they're still working out where those areas are, and while the speech was peppered with references to New York politics, Cruz didn't thoroughly adapt his argument for a New York audience. He entered to a country-music soundtrack and kicked things off by declaring, "God bless the great state of New York." Gawker's Hamilton Nolan reports that his address to wealthy Republican New Yorkers included shout-outs to "all the single moms who are here, who are working two or three jobs," and "all the truck drivers … all the men and women with calluses on your hands."
Cruz didn't rehash his feelings on the reprehensible values people subscribe to in the great state of New York, but former presidential candidate and New York governor George Pataki was on hand to defend Cruz following the event. According to Business Insider, the former presidential candidate insisted that Cruz "wasn't talking about firefighters or people who ride the subway" in his attacks on New York. He added that "Republicans need to nominate someone other than Donald Trump," though like many in the GOP, he couldn't bring himself to actually endorse Ted Cruz.