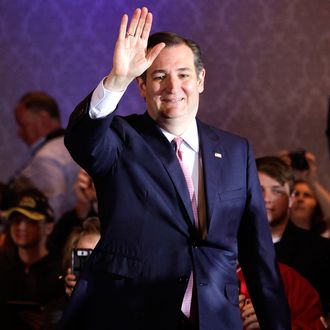 A big Ted Cruz win in Wisconsin would be just what the anti-Trump spin doctors ordered.
Photo: Darren Hauck/Getty Images
One of the more highly regarded public-opinion outfits in the country is Charles Franklin's at Milwaukee's Marquette University Law School. So there's been a lot of anticipation for Marquette's final poll prior to next Tuesday's Wisconsin primary. 
The poll did not disappoint those hoping for drama, at least on the Republican side. It showed Ted Cruz sprinting out to a sudden 10-point lead over Trump among likely voters at 40-30, with John Kasich not too far behind at 21 percent. In the last Marquette poll in February, it was Trump with the 10-point lead, and other recent surveys have shown a close race. 
If, as is usually the case, the Marquette poll is accurate, and particularly if Cruz is building momentum, there's a chance he could clean up with delegates next Tuesday. Wisconsin awards 18 delegates to the statewide winner and 3 delegates to the winner of each congressional district, with no consolation prizes and no thresholds. A Cruz delegate sweep is precisely the kind of development that could feed hope among regular Republicans that Trump might be running out of gas. The next contests, however, in April, will be on Trump's home turf in the northeast. If Marquette is wrong and he does well in the Badger State, his momentum toward the nomination will remain impressive. Either way we'll hear a lot of hype about Wisconsin in the long dry spell before the next primaries. 
Marquette shows less dynamism in the Democratic race. Sanders's 49-45 lead in the latest results is within the margin of error and is not that different from the narrow lead Sanders enjoyed in the February survey. It should be a good state for Bernie with an open primary, a relatively small African-American population (8 percent of the primary electorate in 2008), and a history of progressive activism. But as in many other states the crucial difference between the Democratic and Republican contests is in delegate allocation: The proportional awards Democrats require mean that a close Sanders win won't do a lot to close the lead Clinton holds among pledged delegates. So real drama will probably be lacking despite efforts by Sanders (if he wins in Wisconsin) to tout his winning streak dating back to the two caucuses he won on March 22.