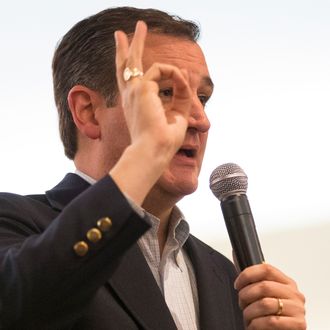 OK with WY.
Photo: Kyle Rivas/Getty Images
Ted Cruz handily won the Wyoming Republicans' county conventions on Saturday, taking 66 percent of the vote and winning 9 of the state's 12 awarded delegates. Meanwhile in Washington, DC, Marco Rubio won the Republican caucus with 37 percent of the vote on Saturday, narrowly edging out John Kasich's 36 percent, though the number of the district's 19 delegates they'll each get has not yet been announced. GOP front-runner Donald Trump took 14 percent of the vote in DC, and 7 percent of the vote in Wyoming.
On the Democratic side, the Northern Mariana Islands, a northwest Pacific U.S. territory that can't vote in the general election but can help nominate presidential candidates, went for Hillary Clinton on Saturday (54 percent of the caucus vote), netting her four delegates to Bernie Sanders's two.
Saturday's contests are the last significant votes before Tuesday's potentially decisive primaries in Florida, Illinois, North Carolina, Missouri, and Ohio. Regarding the latter race, former speaker of the House and Ohio congressman John Boehner endorsed current Ohio governor Kasich on Saturday. An NBC/WSJ/Marist poll released Sunday shows Kasich leading Trump in Ohio 39 to 33 percent.