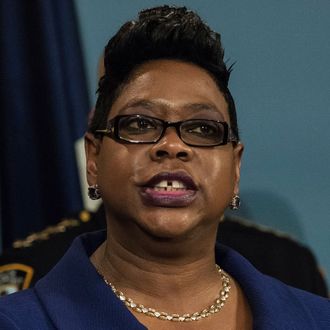 Clark crackdown.
Photo: Albin Lohr-Jones/Pacific Press
This "alliance of evil" is not the Marvel gang of mutant supervillains. No, it's the moniker Bronx district attorney Darcel Clark used to describe a conglomerate of gangs that "carved a path of destruction from the West Bronx to New England." Clark stood with Police Commissioner Bill Bratton and other city officials Thursday to announce the indictment of 84 members of the alliance from four West Bronx gangs: the Eden Boys, the UGs, the RGs, and Miami Avenue. According to the DA, this is the largest gang takedown in the history of the borough. 
Clark said the gang members were selling drugs in New England for prices four times those in the Bronx and coming back to the city with firearms acquired cheaply up north. The Bronx investigators, Bratton explained, tracked gang members' social-media accounts to put together "additional pieces of the puzzle." The small crews that joined to form the "alliance" have allegedly been behind 22 shootings in several Bronx neighborhoods. Prosecutors said they seized 15 guns and 16 kilograms of drugs during the 18-month investigation. "It was a very sophisticated puzzle," said Bratton. 
Of the 84 men indicted, 18 are still at large. Fifty-eight of those in custody have been charged as "major traffickers," a charge that could land them in jail for life.