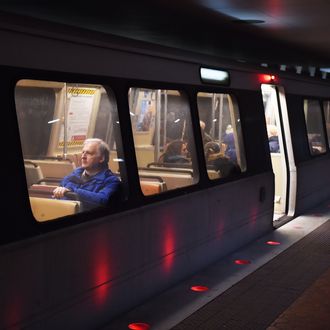 Some 600 electric cables will be inspected during the system's shutdown.
Photo: Matt McClain/The Washington Post via Getty Images
The entire Washington, D.C., Metrorail system will be shut down for at least 29 hours starting at midnight Tuesday so electric cables can be inspected following an electrical fire in a tunnel that caused massive delays on three lines earlier in the day. According to the Washington Post, the fire involved the same type of track-based power cables that burned in a fatal smoke incident in a different tunnel last year. The events were similar enough that officials worried yet another was possible.
During the shutdown — an unprecedented step for a reason other than weather — about 600 cables will be inspected. The entire system will be closed starting at midnight tonight and will remain shut down until the usual 5 a.m. opening on Thursday. But officials say if potentially dangerous cables are found and repairs need to be made, the closure could be extended.
"While the risk to the public is very low, I cannot rule out a potential life safety issue here, and that is why we must take this action immediately," said Metrorail general manager Paul J. Wiedefeld. "When I say safety is our highest priority, I mean it. That sometimes means making tough, unpopular decisions, and this is one of those times. I fully recognize the hardship this will cause."
The system's board of directors had the option of avoiding a shutdown by conducting the inspections over the course of six days, but an official tells the paper it opted for the total closure because of concerns over liability if another incident occurred before the safety checks could be completed.
The announcement this afternoon didn't give commuters much time to make alternate plans for tomorrow, though the city's new 2.4-mile-long streetcar service had a message for residents: