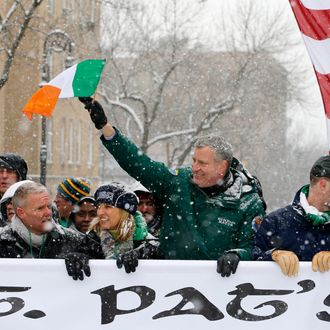 De Blasio at last year's St. Pat's For All parade in Queens.
Photo: Kathy Willens
Bill de Blasio is the first New York mayor not to march in the St. Patrick's Day parade down Fifth Avenue in two decades, but this year he's giving up his boycott. During his first year in office, de Blasio refused to march in the Manhattan parade because it still did not allow LGBT groups to march openly. Last year, parade organizers let OUT@NBCUniversal, a small group of gay NBC employees, participate, but de Blasio said that wasn't good enough.
Now the longtime ban has been dropped fully, and the mayor tells the AP he intends to participate in the March 17 event. "The St. Patrick's Day Parade is a New York City tradition, but for years Irish LGBT New Yorkers could not show their pride," de Blasio said. "Finally, they can celebrate their heritage by marching in a parade that now represents progress and equality." A formal announcement is expected tomorrow.
De Blasio plans to march with the city's police officers and firefighters during the first part of the parade and will then join the 300 members of the Lavender and Green Alliance, the Irish LGBT group that's been fighting the ban for 25 years.