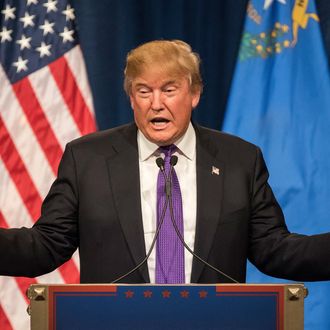 For scribblers and gabbers, The Donald giveth and The Donald taketh away.
Photo: David Paul Morris/Bloomberg via Getty Images
One of the most widely shared fears among political journalists at the moment is being held accountable for dismissive things said at one point or another in this presidential cycle about Donald Trump's candidacy. At Politico, Hadas Gold points fingers in many directions for especially self-confident pontifications about the Donald's irrelevance:
>
David Remnick, editor of The New Yorker, told his readers last summer that Donald Trump was running for president to promote his own brand and that the "whole con might end well before the first snows in Sioux City and Manchester."
Gold goes on to quote Remnick as suggesting that Trump's success didn't so much show journalistic malpractice as a freakish occurrence that no one could have anticipated without harboring very negative feelings about their fellow citizens.