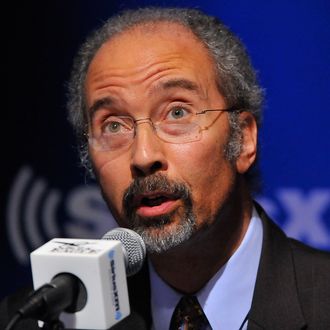 Richard Roberts is charged with sexually assaulting a teenager.
Photo: Larry French/Getty Images
Richard Roberts, the chief U.S. district judge for Washington, D.C., announced his retirement from federal court on Wednesday — the same day a Utah woman filed a federal civil-rights lawsuit accusing Roberts of sexually assaulting her when she was 16. According to the Washington Post, in the lawsuit, Terry Mitchell alleges Roberts raped her repeatedly while she served as a witness in the 1981 federal trial of Joseph Paul Franklin, a white supremacist serial killer who shot magazine publisher Larry Flynt. (Mitchell agreed to be named in media reports.) Roberts, who was appointed to the federal bench in 1998, was part of the team prosecuting Franklin. The Post reports that Roberts resigned for "unspecified health issues."
In a statement, Roberts's attorneys called Mitchell's claims "categorically false," but acknowledge that he did have a "relationship" with Mitchell after the trial ended. "Roberts acknowledges that the relationship was indeed a bad lapse in judgment," the statement read. "However, the relationship did not occur until after the trial and had no bearing on the outcome of that trial."
But Mitchell says Roberts used the pretext of the trial to gain her and her parents' trust, after which he "drove her to a hotel, forced her up to a room, and raped her," writes NBC. After the first instance, the suit says Roberts "intimidated, coerced, and manipulated Mitchell to have sexual intercourse nearly every day for several weeks." Mitchell had reportedly been sexually assaulted by several other men prior to the incident — as a prosecutor, Roberts would've known this via his access to her medical records. Mitchell says she repressed any memory of the assaults until Roberts emailed her about a new development in Franklin's case in 2013.
Mitchell's claims were investigated in 2014, but because Utah's legal age of consent in 1981 was 16, no charges were brought against Roberts at the time. The chairman of Utah's House Government Oversight Committee said an initial review of Mitchell's allegations "has caused alarm and distress over their serious nature." He went on, "We will work with the House and Senate Judiciary committees to determine next best steps to ensure justice is served."
An earlier version of this post misstated that magazine publisher Larry Flynt is dead. He is paralyzed from the waist down.