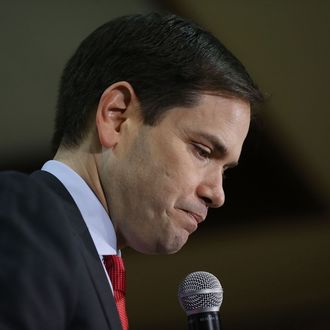 Photo: Joe Raedle/2016 Getty Images
Marco Rubio's nightmare came true on Tuesday night: Just after polls closed in Florida at 8 p.m., multiple outlets called his home state for Donald Trump. With 99 percent of precincts reporting, Donald Trump had 46 percent, Rubio had 27, Ted Cruz had 17 percent, and John Kasich had 7 percent.
Of course, Trump didn't wait for the media to confirm his Florida win:
Rubio kicked off his address by congratulating Trump, drawing boos from the crowd. "America's in the middle of a real political storm, a real tsunami, and we should have seen this coming," Rubio said, before getting interrupted by a heckler (he assured him he wouldn't be roughed up, like at a Trump rally).
The Florida senator went on to blame the "political establishment" for the current chaos in the GOP race, saying it has "looked down on conservatives as simple-minded people," and "taken the votes of conservatives for granted."
As he slipped more and more into the past tense, Rubio said, "While this may not have been the year for a hopeful and optimistic message about our country, I remain hopeful and optimistic about our country."
Finally, Rubio got to the point: "It is not God's plan that I be president in 2016 or maybe ever." Therefore, "today my campaign is suspended."
While Kasich won Ohio, Trump performed well in the rest of tonight's primaries, winning Illinois and North Carolina. With 98 percent reporting in Illinois, Trump had 39 percent, followed by Cruz at 30 percent, Kasich at 20 percent, and Rubio at 9 percent. With 95 percent reporting in North Carolina, Trump had 40 percent, followed by Cruz at 37 percent, Kasich at 13 percent, and Rubio at 8 percent.
Missouri was too close to call early on Wednesday morning. With 99 percent reporting, Trump had 40.8 percent to Cruz's 40.6 percent, with Kasich taking 10.1 percent, and Rubio scoring 6.1 percent.