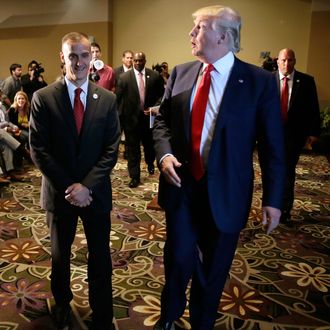 Corey Lewandowski and Donald Trump.
Photo: Charlie Neibergall/AP
When former Breitbart reporter Michelle Fields first accused Donald Trump's campaign manager of bruising her arm, here's how he responded: "The Secret Service was surrounding everybody, they said nothing happened, everybody said nothing happened — perhaps she made the story up," the GOP front-runner mused. "I think that's what happened."
The alleged assailant, Corey Lewandowski, shared a similar hypothesis.
To which Fields replied:
Now, weeks after that ugly back-and-forth, police in Jupiter, Florida, have concluded that Fields was not, in fact, delusional — and that surveillance footage of the press scrum where the incident took place provided probable cause to charge Lewandowski with battery.
In light of this new evidence, which clearly establishes that he did not give enough deference to Fields's account of the events when they first took place, Trump offered a gracious apology and announced Lewandowski's immediate dismissal from his campaign.
Just kidding. Trump argued that the video shows that Fields grossly exaggerated the severity of the assault.
(Audio taken during the event captures Fields's guileless shock in the moments after she was grabbed. Having someone pull you backward by the arm can make you feel more off-balance than you may look.)
In an interview with CNN, Trump argued that Fields's bruises proved nothing. "I don't know if they were bruises from that. Why? Who says they were bruises from that? How do you know those bruises weren't there before?" the mogul asked.
Finally, Trump realized that this whole story was a textbook example of victim-blaming. After all, what had Lewandowski done but defend his boss against a violent journalist armed with a deadly weapon disguised as a pen?
Trump told the Associated Press that Lewandowski would remain on staff because he doesn't "discard people."
When asked about the incident during a CNN town hall on Tuesday night, Trump ramped things up even further. First he read Fields's statement in a mocking tone, interjecting "give me a break," and "she's not a baby."
Sadly, not everyone is as tough as Trump … who went on to suggest that reporters' pens may pose a threat to him. "Just so you understand, [Fields] was off base," he said. "She was grabbing me. She had a pen in her hand, which Secret Service does not like because they don't know what it is — is it a little bomb?"
Few campaign operatives would endorse Trump's approach to damage control. But the GOP front-runner has the credibility to pull off his unusually aggressive defense — because if we know anything about Donald Trump, it's that he always treats women fairly and never, ever fires people.
This post was updated to include Trump's remarks from the CNN town hall.