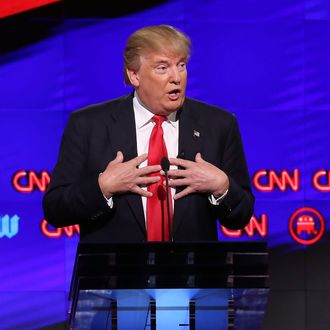 Donald Trump at the most recent Republican debate.
Photo: Joe Raedle/Getty Images
If nothing else, Donald Trump has turned the GOP's debates into appointment television, but during an interview with Fox & Friends Wednesday morning, the front-runner for the Republican nomination said he's skipping next week's on Fox News because of a prior commitment. Instead, Trump said, "I'm making a very major speech in front of a very important group of people": the American Israel Public Affairs Committee, at its annual policy conference in Washington. After Trump dropped out, John Kasich and Ted Cruz did the same, and with no candidates left, Fox News announced that the debate would be canceled altogether.
In that same interview on Fox & Friends, Trump didn't sound eager to participate in any further debates during the primary season. Said the candidate, "I think we have had enough debates. We have had 11 or 12 debates. I did really well on the last one. I think I have done well in all the debates … But I think we've had enough. How many times can the same people ask you the same question?"
This post has been updated with the news that the debate has been canceled.