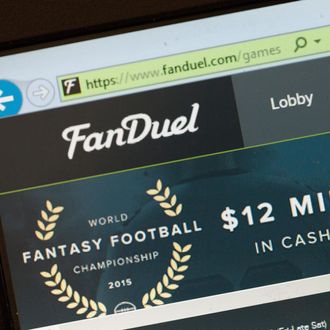 As part of a deal with New York attorney general Eric Schneiderman, FanDuel and its rival DraftKings have stopped taking bets in the state.
Photo: Scott Olson/Getty Images
DraftKings and FanDuel, the daily fantasy-sports sites that have come under increased scrutiny in recent months, have stopped taking bets in New York State as part of an agreement with Attorney General Eric Schneiderman. Last year, Schneiderman accused the sites of illegal gambling, and a State Supreme Court judge issued a temporary injunction that stopped the companies from doing business. But a panel of appellate judges granted an emergency temporary stay that, at the time, allowed the companies to continue operating.
As part of today's agreement, the companies agreed to abide by a pending decision by an appellate court on whether the games they offer are legal. This means the sites will not take bets in New York until at least September, though they can continue to offer free games. The companies have argued that their games are ones of skill, and not luck, and therefore shouldn't be considered illegal gambling, even when money is involved.
Not covered by the agreement, however, is Schneiderman's case accusing the companies of false advertising and consumer fraud. In other words, per the agreement, even if the sites are ultimately permanently banned by the courts from taking bets in New York, the attorney general can still go after the company on those counts.
"As I've said from the start, my job is to enforce the law, and starting today, DraftKings and FanDuel will abide by it," said Schneiderman. "Today's agreement also creates an expedited path to resolve this litigation should that law change or upon a decision by the appellate division."
About the possibility of the law changing: The companies are lobbying lawmakers in New York and elsewhere to pass laws that explicitly legalize paid daily fantasy games. As the Times writes:
Last week, the State Senate, which is led by a thin majority of Republicans, passed a resolution that endorsed legalizing and regulating the industry. The Democrat-dominated State Assembly, meanwhile, has taken no formal position, though the chairman of its committee on racing and wagering, J. Gary Pretlow, a Westchester County Democrat who has supported legalizing online poker in New York, said late last year that he anticipated the legislature would act to legalize fantasy sports.

Gov. Andrew M. Cuomo, a Democrat, legalized an expansion of casino gaming in the state in 2013, but has largely stayed on the sideline in the debate, deferring to the outcome of Mr. Schneiderman's litigation. On Monday, the governor's office echoed that, saying it looked forward "to reviewing the settlement and any proposed legislation."
In a statement, DraftKings said it would work with lawmakers "to enact fantasy sports legislation so that New Yorkers can play the fantasy games they love."
FanDuel released a similar statement, saying that "while it is disheartening for us to restrict access to paid contests in our home state, we believe this is in the best interest of our company, the fantasy industry and our players while we continue to pursue legal clarity in New York."