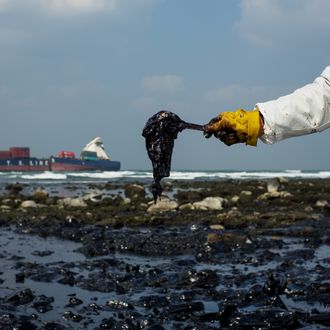 A resident shows an object contaminated by oil in a coastal area affected by an oil spill near Taiwan's north coast.
Photo: Billy H.C. Kwok/Getty Images
A cargo ship that ran aground off the coast of Taiwan earlier this month is slowly spiraling into a huge environmental crisis. The S.S. Taipei got caught on a reef earlier this month in a storm; last Friday, the vessel split in two, and the broken hull is now leaking black oil into the blue-green waters near New Taipei City.
What's more, the nearby Jinshan nuclear power plant uses seawater to cool its reactors, and some feared it could be fouled by the oil slicks. Officials have installed a containment boom, a floating barrier that tries to block the oil from spreading. But that will not help much with the rest of the toxic chemicals that constituted part of the ship's cargo (including 20 tons of potassium perchlorate, a chemical often used in fireworks and sparklers, and 11 tons of epoxy paint) that could potentially leach into the water.
Dean Fredericks, who runs a YouTube Channel aptly named Freediver, used a drone to capture aerial footage of the cracked cargo ship and its oozing fuel. Fredericks, who often investigates underwater wreckage, told Daily Intelligencer by email that he thought his audience might also be interested in seeing a wreck break down in real time, so he sent out a drone to record the short video, embedded below.
Right now a little more than a mile of coastline has been polluted. The ship's crew has been evacuated, though storms stalled recovery efforts and set back operations after a rescue helicopter crashed, killing two people. Cleanup crews are rushing to mop up the spill, and trying to salvage the marine life that could be affected for years by contamination.