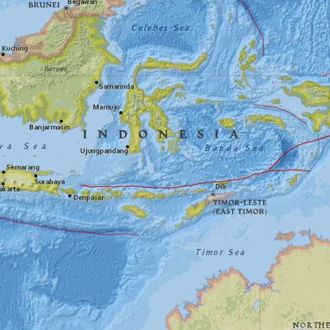 And it burns, burns, burns.
Photo: US Geological Survey
A powerful but shallow earthquake struck off the western coast of Sumatra on Wednesday, causing panicked people in several cities and villages to flee to higher elevations, Disaster Mitigation Agency spokesperson Sutopo Purwo Nugroho told the Associated Press. Indonesian officials issued a tsunami warning following the quake, then lifted it a few hours later. The U.S. Geological Survey estimated the quake's magnitude to be 7.9. Shallow earthquakes are usually more likely to cause damage than deeper ones; the USGS said this particular quake carried a "low likelihood of casualties and damage," however, because it happened far out at sea, The Guardian reports. Australia briefly issued a tsunami warning for Cocos Island and Christmas Island, which has since been withdrawn, but officials are still warning residents to secure boats and stay away from the shoreline. 
Indonesia is located in a region of geological activity around the edges of the Pacific Ocean known as the "Ring of Fire," where multiple tectonic plates converge, creating active underwater earthquakes and volcanoes. Thousands died in south and southeast Asia in 2004 when a 9.0-magnitude earthquake in the Indian Ocean triggered 40-foot waves that moved at speeds up to 500 miles per hour.
This post has been updated throughout.