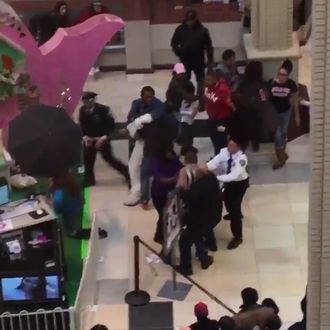 The scene at the Newport Centre Mall on Sunday.
Like a sort of springtime Bad Santa, a New Jersey mall's Easter bunny was caught on video Sunday evening when he got into a fistfight with the parent of a young child. According to a Jersey City spokesperson, the 22-year-old man playing the role of the Easter bunny at the Newport Centre Mall told police that when a 1-year-old slipped out of the chair after having her photo taken, the girl's father began to verbally and physically attack him. Peter Cottontail, in return, tried to kick his ass.
In one of the videos, after the two combatants are separated, the man in the Easter bunny costume is seen returning for more, and he drops his white fluffy bunny gloves in proper (if inadvertent) adherence to hockey-fight protocol.
The spokesperson tells the Jersey Journal that both men were taken to the hospital for minor injuries, and that charges have not yet been filed, as detectives are still speaking with witnesses.