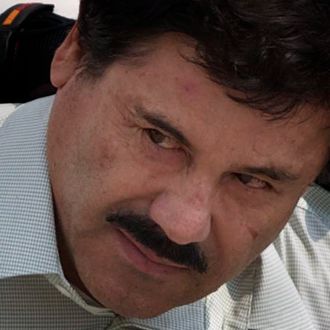 Eastern District of New York, you say? Always wanted to check out Brooklyn.
Photo: Eduardo Verdugo/AP/Corbis
One month you're rubbing shoulders with Hollywood stars, and the next you're stuck in jail and can't catch a decent night's sleep. Such is the plight of Mexican drug lord Joaquín "El Chapo" Guzmán, who is apparently so over Altiplano, the maximum-security facility where he's being held (apart from a brief period this summer), that he's eager to try out the prisons in the United States.
El Chapo's attorney Jose Refugio Rodriguez gave an interview to Mexico's Radio Formula in which he said Guzmán wanted to be extradited to the United States because he couldn't take the conditions in Altiplano. El Chapo has been accusing guards of waking him up every two hours to deprive him of sleep. Another one of the kingpin's attorneys had said that his client was turning into a "zombie." His wife has added that Guzmán was suffering from health problems because of the frequent wake-up calls. And prison officials have apparently cut down on El Chapo's visiting hours and have denied him conjugal visits, a big reversal from his last incarceration. (He reportedly had 46 conjugal visits before he escaped.)
So what's a drug kingpin to do? El Chapo apparently told his attorney that he's willing to make a plea deal with U.S. authorities: He'll say he's guilty of charges — which range from international drug trafficking to murder and kidnapping — if he can be placed in a medium-security American prison. Which sounds suspiciously like a euphemism for "place from which I have a better chance of escaping, possibly through an elaborate tunnel system."
Guzmán has been indicted multiple times in multiple places in the U.S., including New York, California, Texas, and Chicago. (In Chicago, Guzmán was named Public Enemy No. 1 in 2013, and again after his escape in July; he's the only other person to get that distinction since notorious gangster Al Capone.) In other words, he's a pretty wanted man in the U.S. Guzmán's attorneys had initially vowed to fight extradition and filed motions to block and delay the process. Rodriguez says they might now be willing to drop those motions — which would speed up extradition — if they can make a deal with U.S. authorities, says the Associated Press.
Mexican officials, who are probably still not over the national embarrassment of El Chapo's second brazen escape last year, called Guzmán's torture claims "false." Mexico's commissioner of national security justified the check-ins and tightened security that have so irritated their prisoner as "common sense," because the guy has escaped from prison twice already. "He's sleeping perfectly," the commissioner added.