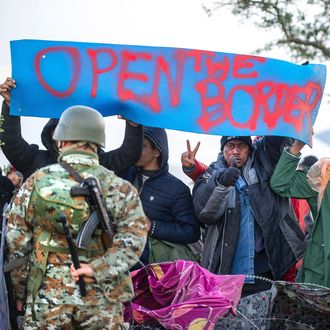 Migrants face police officers standing guard at the Greek-Macedonian border near Gevgelija on November 26, 2015.
Photo: Robert Atanasovski/AFP/Getty Images
Leaders of the 28 European Union member-states and Turkey made a deal Friday to absorb tens of thousands of people seeking refuge in Europe. 
The agreement, which will go into effect as early as Sunday, March 20, requires Turkey to take back new migrants who arrive in Greece and do not qualify for asylum in the EU. In return, EU countries will accept one refugee directly from Turkey for each migrant resettled there, though that number is capped at 72,000. The EU will also give Turkey 6 billion euros in aid, ease visa restrictions for Turkish citizens, and expedite talks on the country's accession to the union that have been ongoing for nearly three decades.
EU leaders presented the plan on Friday to Turkish prime minister Ahmet Davutoğlu, who apparently agreed to the terms. The offer reflects how badly Europe has been overwhelmed by the arrival of more than 1 million refugees and economic migrants  — mainly from Syria but also from Libya, Afghanistan, and Iraq — last year. For its part, Turkey is already hosting some 2.7 million Syrian refugees.
European leaders had wanted to implement the deal right away, predicting a mass exodus of refugees from Turkey who want to cross to Europe before the agreement goes live. Those already present in Greece will not be sent back to Turkey, says the Times, but some European officials are wary of Greece's capacity even to screen new arrivals. The country will receive an additional 30 million euros in aid as part of the new deal, but a recent Times report put the number of migrants stuck in Greece at more than 44,000. 
Critics had previously attacked the deal on moral grounds, arguing that the EU is sending migrants to an uncertain fate in Turkey, where their legal status and rights would be uncertain and where President Recep Tayyip Erdoğan's regime has grown increasingly authoritarian. Authorities there recently seized an opposition-linked newspaper, and Erdoğan has proposed a radically expanded definition of the word terrorist to include some journalists and politicians — presumably the ones he doesn't like.
Some European leaders, however, see Turkey as the villain in this drama, accusing it of exploiting a crisis to shake the EU down for concessions it would never otherwise hope to get.
"Turkey is really asking for a lot. I refuse to accept negotiations that sometimes resemble a form of blackmail," the AP quoted Belgian prime minister Charles Michel as saying.
This post has been updated.