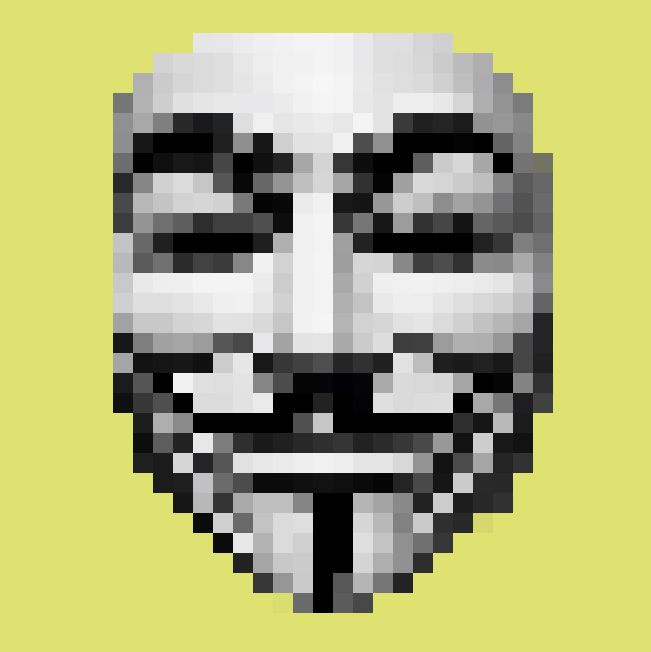 Oh no! Anonymous has declared war on Donald Trump. This is devastating for the Trump campaign. It's tough to see how he wins the nomination now that Anonymous — the amorphous hacktivist collective simultaneously responsible for your favorite memes and least favorite vitriolic harassment — has him in their sights.

Haha, no, I'm joking. Here on earth, Anonymous's so-called wars have lost some of their punch. Their attacks mostly involve DDoSing websites (overflowing them with traffic so that they crash) and doxxing targets by revealing their private information.
What many reports about Anonymous fail to mention, or brush aside, is that anybody can declare war under the moniker of Anonymous. Anyone can be a member of Anonymous if they so choose.
What follows is a timeline of many, but certainly not all, Anonymous efforts.
January 2008: "Anonymous hackers take on the Church of Scientology," CNET
Target: the Church of Scientology. ("We shall proceed to expel you from the Internet and systematically dismantle the Church of Scientology in its present form.")
Outcome: Scientology still exists.
September 2009: "'Anonymous' Declares War on Australia Over Internet Filtering," Wired
Targets: Australia, the Australian prime minister's website.
Outcome: The country Australia and the website of the prime minister of Australia still exist.
August 2010: "4chan on the hunt for Puppy-Throwing Girl," Gawker
Target: an anonymous girl filmed throwing puppies into a river.
Outcome: Bosnian police identified the girl from the town of Bugojno. She later apologized.
August 2010: "How 4chan Brought the Evil British Cat Bin Woman to Justice," Gawker
Target: a lady who was caught on camera throwing a cat into a garbage can.
Outcome: Mary Bale was identified and publicly shamed worldwide.
October 2010: "Wikileaks: Palin, Sweden and Amazon face Anonymous hackers onslaught," Belfast Telegraph
Targets: people and organizations believed to be anti-Wikileaks, including "Amazon, Paypal, Sarah Palin, the U.S. State Department and the Swedish Government."
Outcome: Amazon, PayPal, the State Department, Sweden's government, and Sarah Palin all still exist.
December 2010: "Visa under attack from Anonymous, payment processors, as WikiLeaks war escalates," Ars Technica
Target: Visa, which refused to process Wikileaks donations.
Outcome: Visa still exists.
January 2011: "Anonymous Declares War on the U.K.," Inquisitr
Target: the United Kingdom, which arrested five Anons for the aforementioned Wikileaks attacks.
Outcome: The United Kingdom still exists, though Scotland almost became independent last year.
April 2011: "'Anonymous' attacks Sony to protest PS3 hacker lawsuit," Ars Technica
Target: Sony, which sued tech whiz George Hotz for hacking his PlayStation 3.
Outcome: Sony still exists.
Jun 2011: "Anonymous Declares War On The City Of Orlando," TechCrunch
Target: Orlando, Florida, which arrested members of a local charity for feeding the homeless without a permit.
Outcome: Those arrested were cleared of charges; the city of Orlando still exists.
July 2011: "Anonymous hacks Monsanto: Operation Green Rights begins," Examiner
Target: Monsanto, an agricultural company behind many popular GMOs.
Outcome: Monsanto still exists.
August 2011: "Operation BART 2: Anonymous protests - BART stations close," Examiner
Target: Bay Area Rapid Transit police, officers of which were involved in two fatal shootings in recent years, and who had disrupted cell-phone service during previous protests.
Outcome: BART PD still exists; its officers faced little disciplinary action.
September 2011: "Hacker Ring Appears to Make Good on Promise to Expose Celebrities," Wired
Targets: Scarlett Johansson, Mila Kunis, Jessica Alba, Vanessa Hudgens, "some 50 other celebrities," and the "Jew-controlled media."
Outcome: These particular celebrities still exist; the creation of new celebrities continues apace.
October 2011: "Zetas Kidnap 'Anonymous' Member, Video Threatens To Expose Drug Cartel," Huffington Post
Target: the Zetas drug cartel, which reportedly kidnapped a member of Anonymous.
Outcome: The Zetas cartel still exists. Subsequent reports stated that Anonymous had backed off, and even called into question whether the Anon had ever even been kidnapped.
November 2011: "Anonymous threatens Mexican politicians and City of Toronto," Naked Security
Targets: the corrupt government of Mexico, and the City of Toronto (at the time led by future cocaine scandal figure Rob Ford).
Outcome: The Mexican government continues to be very corrupt. Rob Ford continued to be mayor for another couple of years, later felled by a cocaine scandal.
January 2012: "'Anonymous' hackers release video of second UFC attack; claim 'Stage 1' is complete," MMA Mania
Target: the Ultimate Fighting Championship mixed-martial-arts league and its president Dana White, who at the time supported internet regulatory bills SOPA/PIPA.
Outcome: Both White and UFC continue to exist and be very popular.
February 2012: "Anonymous: Occupy the November election," CNET
Target: the November 2012 presidential election.
Outcome: "Hacker group joins forces with Occupy movement to urge citizens to vote out lawmakers, but also declares war on the government." Some lawmakers were definitely voted out, but the U.S. government continues to exist.
June 2012: "Anonymous Declares War On Japan," Gizmodo UK
Target: Japan, which passed an anti-piracy law.
Outcome: Japan continues to exist.
August 2012: "Anonymous Declares War on T-Shirt Maker Over Logo Copyright," Mashable
Target: a French apparel manufacturer attempting to trademark "one of the hacktivist collective's most well-known logos: A man wearing a suit with a question mark for a head."
Outcome: The T-shirt maker backed down, working with Anons to resolve the situation.
October 2012: "Anonymous declares war on Wikileaks," ZDnet
Target: Wikileaks, which instituted a paywall.
Outcome: It seems incorrect to assign responsibility to Anonymous for what's going on in Syria.
November 2012: "Anonymous declares 'cyberwar' on Israel," CNN
Target: Israel, which had been conducting aerial strikes on Gaza. The government reported 44 million cyberattacks over that period.
Outcome: Israel, which faces many different forms of opposition, many more worrisome than Anonymous, still exists.
November 2012: "Anonymous declares war on Syrian government Web sites," CNET
Target: Syrian government websites, in response to internet blackouts during the country's civil war.
Outcome: Though a battleground, Syria still exists and Bashar al-Assad is still its president.
January 2013: "Anonymous hacks government site, threatens to expose secrets in response to Aaron Swartz's death," the Verge
Target: the U.S. Department of Justice, which was overly aggressive in its prosecution of Aaron Swartz, who later committed suicide.
Outcome: Anonymous's demands for "changes to 'outdated,' 'broad,' and 'poorly-envisioned' legislation; the end of mandatory minimum sentencing; and a return to 'proportionality of punishment' that takes into account actual harm caused" went largely unheeded.
April 2013: "Anonymous is targeting every pedophile hub on the Web," the Daily Dot
Target: pedophiles.
Outcome: Pedophiles still exist and congregate online.
October 2013: "'Anonymous' hackers threaten war with Singapore government," Yahoo
Target: the government of Singapore, which hoped to enact an "internet licensing framework."
Outcome: Singapore did not back down; both the government and its framework still exist.
May 2014: "Anonymous Declares War on Cambodian Government Following Arrests," International Business Times
Target: the Cambodian government, which arrested two Anons.
Outcome: The hackers later cut a deal to work for the Cambodian government, which still exists.
July 2014: "'Anonymous' Hacktivists Target World Cup Sponsors," International Business Times
Target: sponsors of the 2014 World Cup soccer tournament.
Outcome: The World Cup went off mostly without a hitch, while sponsors like Coca-Cola, Budweiser, Emirates Airlines, and Adidas made lots of money. The World Cup and its sponsors still exist.
January 2015: "Anonymous declares war on Islamist extremists after terror attack in Paris," Fox News
Target: Islamic extremists, following the Charlie Hebdo shooting.
Outcome: Islamic extremism still exists.
June 2015: "Hacking group Anonymous brings down Canadian government websites," New York Daily News
Target: Canada, which passed "a controversial anti-terror law."
Outcome: Canada still exists. Bill C–51 is now enacted. They did elect a cool new prime minister, though.
July 2015: "Hacktivist group Anonymous vows to avenge B.C. death," Vancouver Sun
Target: British Columbia police officers, who allegedly killed a member of Anonymous.
Outcome: Police said they were investigating the shooting, though whether that was a result of Anonymous's efforts is unclear.
September 2015: "Anonymous declares war on Saudi Arabia over planned execution of juvenile offender," Metro
Target: the government of Saudi Arabia, which had arrested Ali Mohammed al-Nimr and sentenced him to execution.
Outcome: Despite cyberattacks and international diplomatic pressure, al-Nimr remains in prison.
November 2015: "Anonymous Declares War On ISIS After Paris Attacks," Huffington Post
Target: ISIS.
Outcome: ISIS still exists.
December 2015: "Anonymous takes credit for massive cyberattack on Turkey," the Hill
Target: Turkey, which was accused of supporting ISIS.
Outcome: More than 400,000 websites in Turkey went down, though Turkey's government still exists.
December 2015: "Making A Murderer: Anonymous claims to have evidence that Netflix documentary's subject, Steven Avery, is innocent," The Independent
Target: the unbalanced justice system that convicted Steven Avery, subject of the popular Netflix documentary series, for murder.
Outcome: Avery's conviction remains unchanged and he remains in prison.
January 2016:" Anonymous declares war on Thai police over controversial murder case," the Verge
Target: Thai police, in the wake of "the controversial conviction of two Burmese migrant workers on charges of murder and rape."
Outcome: The two men remain on death row.
January 2016: "Anonymous hacks Nissan over illegal Japanese whaling," the Drum
Target: Japanese auto manufacturer Nissan, which, by simply being Japanese, was tied to the country's whale hunting.
Outcome: Nissan's site went down for a bit, but the company still exists.
January 2016: "State on high cyber alert after Anonymous threat," Detroit Free Press
Target: Michigan's government, including governor Rick Snyder, amidst the Flint water crisis.
Outcome: The government of Michigan still exists, and the water crisis is ongoing.
March 2016: "Anonymous declares war on 'cat killer' who admits to slaughtering moggies with a BOW AND ARROW," the Mirror
Target: Zach Slattery, who posted images online of himself hunting cats with a bow and arrow.
Outcome: Slattery's actions received death threats and international outcry, but he is otherwise unharmed. Many people did not realize he was taking part in the country's effort to cull Australia's population of 2 million feral cats.
March 2016: "Anonymous Just Declared War on Donald Trump With a Massive Cyberattack," Mic
Target: GOP presidential front-runner Donald Trump.
Outcome: Anonymous has not yet uncovered anything that will doom Trump's campaign. He remains the likely Republican nominee.