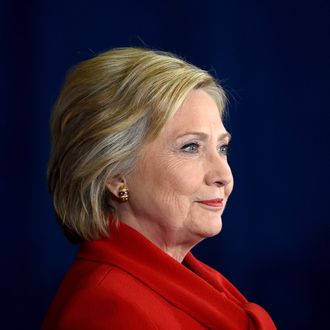 Photo: Ethan Miller/Getty Images
The FBI has reviewed the security logs from Hillary Clinton's private-email server and found no signs that foreign hackers had ever penetrated it, the New York Times reported Thursday.
Federal investigators received the logs from former Clinton staffer Bryan Pagliano, who set up the server in her Chappaqua home, one day after the Justice Department granted him immunity to secure his full cooperation in the ongoing investigation into Clinton's use of the server during her tenure as secretary of State.
The FBI and the Justice Department have finished reviewing all of the emails sent from Clinton's server and are now trying to determine whether the presence of highly classified information in those emails constitutes a crime.
Last September, the Associated Press reported that Russia-linked hackers had tried several times to gain access to the server by sending Clinton phishing emails containing malware disguised as speeding tickets, but it was not clear at the time whether she had clicked the malicious links.
Whether or not the server was hacked has no bearing on the legality of Clinton's actions, but will influence public perceptions: If it was never compromised, Clinton's use of the private server looks like more of a harmless mistake and less of a danger to national security.
The logs do not conclusively prove that the server was never successfully breached, but "computer security experts view logs as key documents when detecting hackers," the Times adds.
The State Department has said that 2,903 emails on Clinton's server contained classified material of some sort, though most of this material was deemed merely "confidential," the lowest level of classification. What's more, in most if not all cases, that low-level classification was applied retroactively.
However, 22 Clinton emails contained information that was "top secret," according to the State Department. It is not yet clear whether this material was highly classified at the time it passed through Clinton's private server. The Democratic front-runner has maintained that she never emailed contemporaneously classified material. None of the publicly available emails have contradicted that claim.