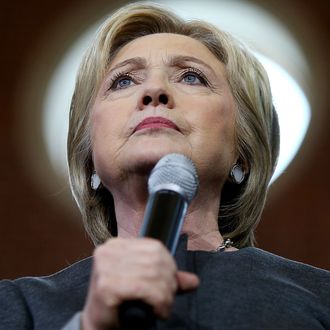 Damn emails.
Photo: Justin Sullivan/Getty Images
The Justice Department has granted immunity to a former State Department staffer who helped set up Hillary Clinton's private email server, the Washington Post reported Wednesday. Bryan Pagliano, who also worked with Clinton on her 2008 presidential bid, will now fully cooperate with the investigation into his former boss's handling of classified material during her time as secretary of State.
The immunity agreement signals a new phase in the FBI and Justice Department's probe. The agencies have finished reviewing all of the emails sent from Clinton's server and are now trying to determine whether the presence of highly classified information in those emails constitutes a crime, CNN reports.
Clinton spokesperson Brian Fallon said the campaign was pleased that Pagliano has agreed to cooperate with investigators. "As we have said since last summer, Secretary Clinton has been cooperating with the Department of Justice's security inquiry, including offering in August to meet with them to assist their efforts if needed," Fallon said in a statement.
The State Department has said that 2,903 emails on Clinton's server contained classified material of some sort, though most of this material was deemed merely "confidential," the lowest level of classification. What's more, in most if not all cases, that low-level classification was applied retroactively.
However, 22 Clinton emails contained information that was "top secret," according to the State Department. It is not yet clear whether this material was highly classified at the time it passed through Clinton's private server. The Democratic front-runner has maintained that she never emailed contemporaneously classified material. None of the publicly available emails have contradicted that claim. However, CNN notes that Clinton received emails from aides that "while not marked as classified, did contain information that should not have been handled outside the government's secure email system."
Charles McCullough III, the inspector general of the intelligence community, has suggested that some of the sensitive information in the emails was classified at the time it was sent, according to the Post.
Many Republican politicians, including presidential front-runner Donald Trump, have suggested that the conviction of General David Petraeus for mishandling classified information sets a precedent for the criminality of Clinton's actions. But according to the current and former intelligence officials who spoke with the Post, the precedent established by Petraeus's case actually makes charges against Clinton less likely.
The retired four-star general shared top-secret code words, war strategies, and the identities of covert officers with his personal biographer, and then lied to the FBI about doing so. Although Petraeus was initially threatened with multiple felony charges, he ended up pleading guilty to a misdemeanor, for which he was fined $100,000 and sentenced to two years of probation.
Petraeus "was handled so lightly for his offense there isn't a whole lot you can do" in Clinton's far-less-egregious case of mishandling information, one former U.S. law-enforcement official told the Post.