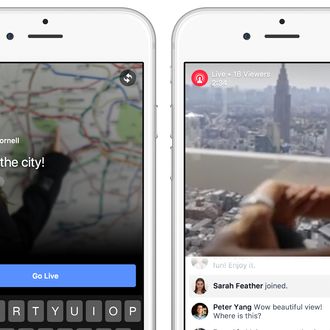 Are you a fan of live video? Do you love watching shaky footage of a relatively low-quality variety? Doesn't matter; Facebook is about to show you more anyway.
Last fall, the company began to slowly roll out livestreaming functionality, letting celebrities and others with large followings broadcast what they were up to. Which brings us to today, when the service announced that it will start giving more attention to live video, separating it into a new category from uploaded video.
Now that more and more people are watching Live videos, we are considering Live Videos as a new content type – different from normal videos – and learning how to rank them for people in News Feed. As a first step, we are making a small update to News Feed so that Facebook Live videos are more likely to appear higher in News Feed when those videos are actually live, compared to after they are no longer live.
In addition, the news-feed algorithm — a black box of thousands of click signals meant to keep you engaged and sated with content — will prioritize streams that are currently live over archived versions.
What does this mean for you? Not a whole lot in the immediate sense, but it does signal that Facebook's Sauronic eye is slowly inching toward the growing area, prioritizing its own service over competitors like Periscope, Twitch, YouTube, and … Meerkat?
Above all, however, this is likely an opening volley against Snapchat, whose extremely popular Story function (photos and videos that expire after 24 hours) is the social web's current preferred way of demonstrating that "I'm having fun right now!!!!" Social media's pull is highly reliant on FOMO, and within FOMO, there's a clear hierarchy. Text updates are good, photos are better, video is best. People are more likely to spend more time engaged watching their friends/celebrity crushes having fun in real time, and the longer they stay engaged, the larger the window is to insert advertising into.
And here's where it's going to get interesting: New-media publishers like BuzzFeed, NowThis, Vox, and others have funneled a lot of money into video production over the last year or two largely because of Facebook's increasing audience rewards for news-feed video. Their preproduced videos generally condense time (e.g., those insanely popular 15-second recipe videos) and work around Facebook's muted autoplay by relying on textual overlay and closed captioning rather than audio narration. But … none of these tactics are possible with live video — meaning that while major publishers throw more muscle behind slickly produced professional video, livestreaming will appear antithetical. And most likely, they'll appear side-by-side in your feed.