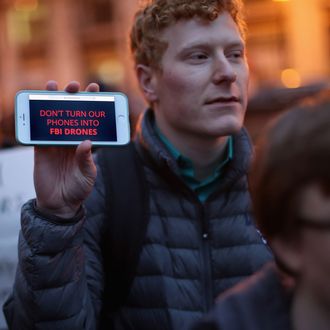 Can the FBI pull off its new party trick twice?
Photo: Chip Somodevilla/Getty Images
Just a few days after the FBI figured out how to hack into San Bernardino killer Syed Rizwan Farook's iPhone, it seems ready to do it for any law-enforcement agency that asks. The FBI has agreed to help a local prosecutor in Arkansas hack into an iPhone and an iPod that belonged to two teenage murder suspects. A judge postponed the trial of one of the teens so that local authorities could ask for the FBI's help in getting into the devices. Prosecutors say one of the defendants used the phone to discuss the homicide after the fact. 
The FBI said on Tuesday that its method of unlocking Farook's phone will not lead to broad access to encrypted data, and it is unclear whether the agency will be using the same method to access these two devices. In this case, the iPhone is a later model than Farook's iPhone 5c, although digital-rights attorney Andrew Crocker told the L.A. Times that the encryption hurdles might be very similar even on a more up-to-date operating system. The FBI has still not said how it broke through Apple's encryption.