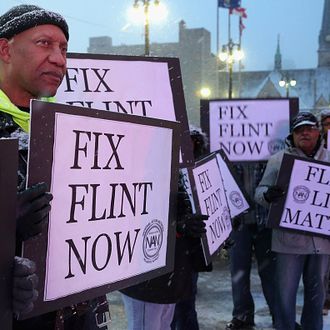 Protesters also demonstrated at last week's GOP debate.
Photo: Chip Somodevilla/2016 Getty Images
Hillary Clinton and Bernie Sanders weren't the only ones getting worked up during Sunday's Democratic debate in Flint, Michigan. Before the debate, hundreds of Flint residents, including fast-food workers and clergy, demonstrated outside Whiting Auditorium to demand a $15 minimum wage. Flint's water crisis has necessitated the purchase of relatively expensive bottled water — a commodity many minimum-wage workers can't afford. "Some of us can't even afford to eat because of the wages," Willie Williams, who retired from his job at Church's Chicken three years ago, told Think Progress. "People have been donating [water] all over the country, but how long is [that] going to go [on]?" 
"I'm breaking out in rashes and paying for water," said Tyrone Stitt, a Fight for $15 leader in Michigan. "Increasing the minimum wage would help tremendously." Stitt led Sunday's march, which, according to the Detroit Free Press, began in front of a media spin room, moved across the University of Michigan's campus, and ended in front of the Whiting where police blocked protesters from getting close to the building. Members of the crowd held up signs with slogans such as "Flint Lives Matter," and one protester carried a cardboard cutout of Michigan governor Rick Snyder with devil horns.
Inside the venue, both candidates criticized Snyder for how he handled the water crisis — something Snyder was quick to notice and rebuff. Williams called on both candidates to address low wages, saying they'd have to "work for our vote." He went on: "None of us have faith in our government."
The minimum wage in Michigan went up 35 cents in January, but that's hardly enough to offset costs for most Flint residents, who paid nearly double the national average for their lead-infused water last year. And although Michigan officials recently gave Flint residents $30 million to pay their water bills, their water still isn't safe to drink.
If Flint residents want to see a higher federal minimum wage, both Clinton and Sanders are better bets than their potential GOP rivals. Sanders introduced a bill to raise the federal minimum wage to $15 last July, but unsurprisingly it's still bouncing from committee to committee. Clinton has advocated for a $12 federal minimum wage but believes "we should go further than the federal minimum through state and local efforts" like Fight for $15. The federal minimum wage is still a dismal $7.25 an hour (it's been that way since 2009), but states such as New York and Massachusetts are slowly creeping toward that $15 goal.