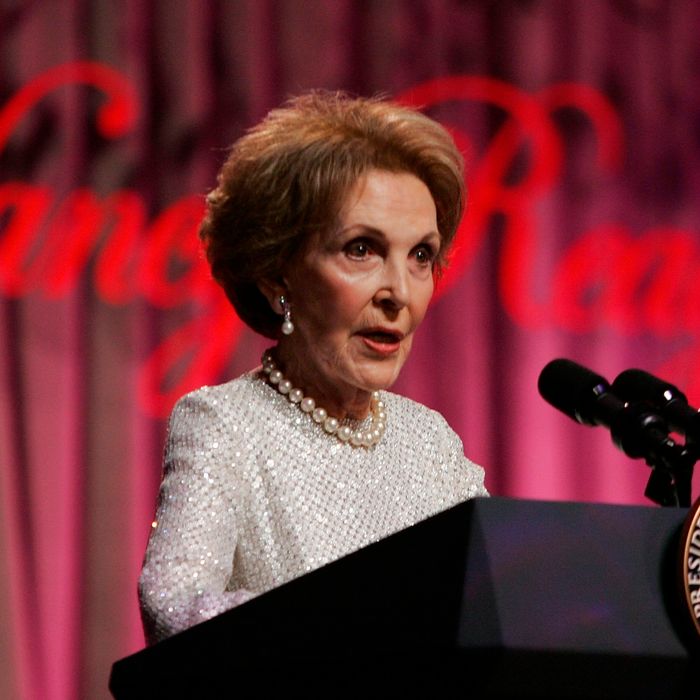 Photo: Joe Raedle/Getty Images
Former first lady Nancy Reagan has died at the age of 94, according to a Reagan family spokesperson. CBS News reports that her cause of death was congestive heart failure. The one-time actress married actor and future president Ronald Reagan in 1952 while they were both working in the movie industry. According to biographer Lou Cannon, she then played an instrumental behind-the-scenes role in her husband's political career and ascension to both governor of California, and ultimately president of the United States. She also remained her husband's staunchest defender as, and after, he succumbed to Alzheimer's disease after leaving the White House.
As an influential first lady, the issue Mrs. Reagan primarily focused on during her husband's time in office was the prevention of drug use by young people, and she was responsible for the infamous "Just Say No" slogan and campaign in the 1980s. Her efforts also helped lead to the Anti-Drug Abuse Act of 1986, which Mrs. Reagan considered a personal triumph. That still-controversial law enacted, among other things, mandatory minimum sentences for drug possession, including for marijuana and small amounts of crack cocaine. Reagan continued her anti-drug efforts through the Nancy Reagan Foundation after leaving the White House.
Though Mrs. Reagan generated some controversy during her time as first lady, particularly over her dabbling with astrology following the 1981 assassination attempt on her husband, as well as for her lavish redecorating of the White House during a deep recession, for the most part she was widely liked around the country, and according to Gallup was one of the ten most-admired women in America for the duration of Ronald Reagan's presidency.
A breast-cancer survivor, Mrs. Reagan also used her fame to promote annual mammograms for women, but her most important post–White House contribution was as a prominent advocate for research into a cure for Alzheimer's disease. To that end, she helped form the Ronald and Nancy Reagan Research Institute, an affiliate of the Alzheimer's Association, and also eventually broke from the Republican Party to endorse the use of stem cell research in efforts to combat the disease.
Mrs. Reagan will be buried next to her husband at the Ronald Reagan Presidential Library in Simi Valley, California.