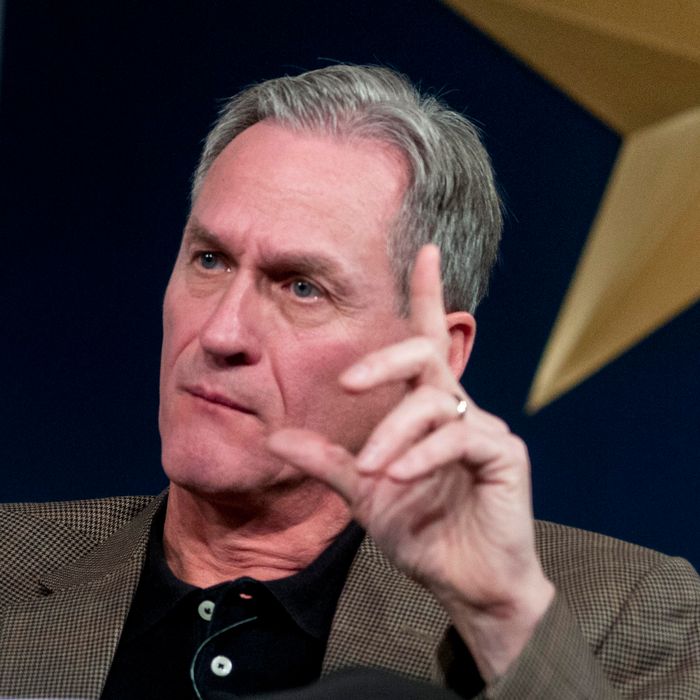 Governor Dennis Daugaard.
Photo: RICK D'ELIA/Corbis. All Rights Reserved.
Good morning and welcome to Fresh Intelligence, our roundup of the stories, ideas, and memes you'll be talking about today. In this edition, South Dakota's anti-transgender bill will not become law, the GOP debate gets straight-up ridiculous, and Amazon caves. Here's the rundown for Friday, March 4.
WEATHER
It will be a snowy Friday all the way from Washington, D.C., to Boston, and a rainy one on the West Coast. New York's good luck should continue, dodging the snow and most likely even the rain just in time for an overcast weekend. [Weather.com]

FRONT PAGE
Transgender-Student Bill Veto Stands
Lawmakers in South Dakota have been unable to overturn a veto by the state's governor of a bill that would require transgender students to use facilities corresponding to their gender at birth. Republican governor Dennis Daugaard said he vetoed the bill because the issue was better handled by the schools and the bill could leave the state vulnerable to legal action. The bill's backers say they are not giving up and will return with a stronger piece of legislation. Another bill, which limited the sports teams transgender students could play on, was also voted down yesterday. [NYT]

EARLY AND OFTEN
GOP Debate Now Just Actual Dick Jokes
Wow. Where to begin? The Republican debate was on Fox News last night and things got weird, fast. Some outlets are calling it an ambush, but whatever it was, it was not a good day to be Donald Trump. Actually, Trump got to defend his penis size on national TV, his popularity seems totally unrelated to anything he says or does, and both Rubio and Cruz said they would support him if he was nominated, so who knows?

Romney Distances Himself From Problem He Created
One-time presidential second-place finisher Mitt Romney outlined the many reasons a Trump presidency would be bad for America yesterday during a speech in Utah. Not mentioned: all the times Mitt publicly praised the Donald and wheeled him out on the campaign trail when he thought it would help his election chances. Romney was followed on the lectern by another one-time Trump supporter changing his tune so fast his harmonica broke.

Trump Candidacy Forces Bizarro World Protocol
Bernie Sanders will take the stage on his own for an hour-long televised town-hall event this Monday evening hosted by … Fox News? Hillary Clinton was also invited to appear but she will keep up her "No Fox" policy, which she's managed to stick to for the last two years. Take a moment to consider how much Fox must hate Donald Trump to run an hour of uninterrupted Bernie in prime-time.

Christie Swears He Isn't Brainwashed, Just Devoid of Scruples
Even in this most depressing of campaigns there are moments that can make you smile — like New Jersey governor Chris Christie having to publicly reassure everyone that he "wasn't being held hostage" when he appeared behind Donald Trump with a look of silent terror. Our guess is he just got a good look at the back of Trump's head.

THE STREET, THE VALLEY
Silicon Valley Closes Ranks Behind Apple
Dozens of tech companies filed briefs yesterday in support of Apple as the company continued to face off against the federal government over its encrypted iPhones. Even Apple's biggest competitors like Microsoft, Google, and Facebook came out in support. Meanwhile, six relatives of the San Bernardino shooting victims — the phone the Feds want Apple to hack was used by one of the shooters — filed briefs in support of the federal government. [Reuters]

Company Bags Bag Company
Samsonite, the world's largest luggage brand, has acquired the high-end luggage maker Tumi for $1.8 billion. Samsonite has long been covetous of the pricey luggage brand and the deal is the largest purchase in the company's history. Our luggage is made by Glad. [Bloomberg]

Awkward Stock Surge Follows Executive's Death
The day after its indicted former executive Aubrey McClendon died in a suspicious car crash, Chesapeake Energy Corp. looks set for the biggest two-day stock increase its history. The surge is likely the result of a recent promise of immunity from prosecution in the ongoing antitrust investigation of McClendon. Shady all the way down. [Bloomberg]

Amazon Preempts Government Showdown by Caving to Demands Ahead of Time
Amazon has disabled encryption in its latest Fire operating system. The move, which leaves customer information vulnerable to security breaches, has left observers confused. Well not confused exactly — everyone is pretty sure Amazon is just kowtowing to pressure from the government. [The Verge]

MEDIA BUBBLE
Facebook Identity Confusion in NFL Bid
Digital rights for the NFL's Thursday night games are going on the market, and an unexpected party is showing interest: Facebook. Along with the usual suspects like Verizon and Amazon, the social network is thinking about getting into the sports-streaming game. Which basically makes no sense. [Recode]

The Washington Post Goes After Vice
The Washington Post released a damning story about Vice Media yesterday in its Style section for some reason. The story accuses Vice of shady practices to appease advertisers, including removing or changing stories and using documentary footage in advertising. Vice responded to the article by flicking a cigarette butt into traffic. [WaPo]

Perseus Sell-Off Continues
Perseus Books Group announced yesterday that it will sell their distribution business to the book printer and distributor Ingram Content Group. The news came just a few days after a similar announcement on Tuesday that the company will sell its publishing business to the Hachette Book Group. [NYT]
PHOTO OP
Donald Trump vehemently defended his hands against accusations of smallness during last night's decidedly odd GOP debate.
MORNING MEME
The Debate's Most Nauseating Moment
Behold, the grossest political clip since the Zapruder film.
OTHER LOCAL NEWS
New Mexico Steals Florida's Thing
An undercover cop in Albuquerque, New Mexico, bought meth from a man selling drugs out of a Porta Potty outside of an adult bookstore. So, Albuquerque is exactly how we pictured it. [KOAT]

Gladys Knight Bribes Police Officer, Kind Of
A police officer got more than he bargained for when he pulled over a speeding car outside of Salt Lake City on Wednesday night. The driver was soul-singing sensation Gladys Knight — who sang him "Happy Birthday"! Which come to think of it, seems kind of messed up. Also, the policeman had his wife in the car? Is that allowed? [AP]

HAPPENING TODAY
Jobs Report Drops Today
The jobs report is out today so expect a lot of good news that will still somehow get Obama in trouble. [BLS]

David Duke Pulls a Trump, Skips Campaign Event
Donald Trump and Marco Rubio are campaigning in Louisiana today, and because we live in a world gone mad, every outlet must also report that the one-time leader of the Klu Klux Klan, David Duke, will not make an appearance. [The Advocate]

Carson to Make Important Announcement. Any Guesses?
The Ben Carson camp has said that the struggling candidate will make an important announcement about his campaign today. We're not even going to guess what it could be; that would be irresponsible. [Bloomberg]