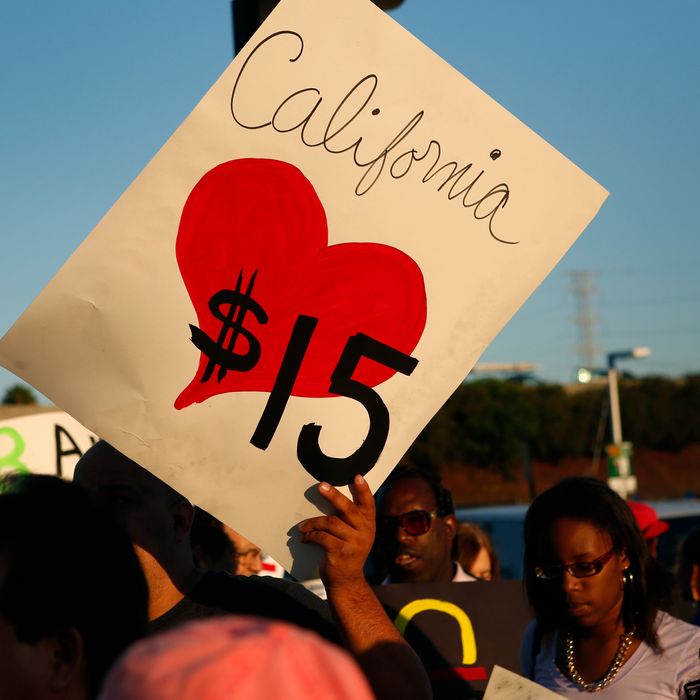 Californians protest for a higher wage.
Photo: Patrick T. Fallon/Bloomberg
Good morning and welcome to Fresh Intelligence, our roundup of the stories, ideas, and memes you'll be talking about today. In this edition, California is close to a wage hike, Sanders challenges Clinton in New York, and parents are the worst. Here's the rundown for Monday, March 28.
WEATHER
A massive cold front is heading east bringing cooler weather and rain through Washington, D.C., New York, and New England. Florida is having its own troubles, with multiple large thunderstorms and heavy hail spotted across the state. [Weather.com]
FRONT PAGE
California Close to Minimum-Wage Deal
California lawmakers have reached a deal to raise the minimum wage to $15 an hour by 2022. If the law is passed, it would be a major victory for proponents for raising wages across the country, which has become something of a movement this year with similar legislation under consideration in cities all over America. The current minimum wage in California is $10 an hour. The new law would allow small-business owners an extra year to implement the new wages. [NYT]
EARLY AND OFTEN
Bernie Throws Down Gauntlet for New York Debate
Now that cage fighting is legal in New York, Bernie Sanders has challenged Hillary Clinton to a showdown in the city. Clinton has yet to respond. **Chicken Noise**
When a Joke Becomes Reality, Reality Becomes a Joke
A Change.org petition asking that attendees be allowed to bring guns to the Republican National Convention has gotten nearly 40,000 signatures, and even Donald Trump has said he is taking it seriously. Here's the thing, the whole petition was started as a joke. Not that that really means anything anymore. [CNet]

Kerry Acts Like America Embarrassing Itself Is New
Secretary of State John Kerry said in an interview on Sunday that the Republican race for the nomination — especially comments about Muslims and Trump's promise to bring back torture — is embarrassing the nation abroad and ruining our international reputation. If you remember, our reputation before this election cycle was stellar.

Sanders Actually Takes Hawaii and Alaska Seriously
Bernie Sanders is riding high following Saturday's big wins in primaries in Washington, Alaska, and Hawaii. Yesterday, the candidate said that his victories would help win over powerful Democrats and superdelegates to his cause. He also criticized the Clinton campaign for depending on wealthy donors.
THE STREET, THE VALLEY
Microsoft Mulls Role in Yahoo Purchase
Microsoft, Yahoo's most steadfast ally is in talks with investors and might be willing to play a role in the purchase of the struggling company. Microsoft has assured consumers that its longstanding deals with Yahoo over advertising and its search engine will remain unchanged. [Reuters]

Facebook Just Wants to Make Sure Everyone Is Okay
Facebook's recently unveiled safety-check feature ran into a bit of a hitch after yesterday's deadly terrorist attack in Lahore, Pakistan. Following the explosion — next to a playground in a crowded park — Facebook sent notifications to people in the United States and Europe believing they were in the vicinity of the blast. [CNet]
Law Could Make New Jersey Slightly Less Obnoxious
Pamela Lampitt, a Democratic assemblywoman from New Jersey, has been bumped into one too many times. She recently proposed a bill that would fine people who walk and text $50, and people who are repeatedly caught walking and texting could even face jail time. New Jersey, how very civilized of you. [CNet]
iPhone Encryption Fight II: European Vacation
Following terrorist attacks in Paris and Brussels, governments across Europe are considering strengthening their ability to access their citizens' digital information. The move will inevitably put them on a collision course with Apple, which has recently shown its willingness to go to court to protect its products' encryption. [NYT]
MEDIA BUBBLE
Crashing Oil Prices' Unexpected Casualties
Al Jazeera Broadcasting is laying off more than 10 percent of its staff — that's nearly 500 people. Al Jazeera is partially funded by the ruling family of Qatar and its economy has been under pressure following the global decline in oil prices. [Reuters]
Thomas the Tank Engine Experiments With More Diverse Characters — Still All Trains
You may not have realized it but Thomas the Tank Engine is big business. The television show and toy line rakes in more than $1 billion a year. Now the company is responding to longstanding complaints about a lack of diversity and adding in characters like Yong Bao, a Chinese train; Ashima, an Indian train; and Carlos, a train from Mexico. [NYT]
Rural America Looses a Powerful Voice
Jim Harrison, the novelist, poet, and possessor of prodigious appetites died over the weekend at home in Arizona. He was 78. Harrison was well known for his stories of hunger and yearning — including his most famous work Legends of the Fall — and for embodying a certain outdoorsy, masculine, rural American ideal. He split his time between Montana and Arizona.
PHOTO OP
Mexicans Dislike GOP Candidates, Though They Assume Some Are Good People
Usually we would go with a picture of the Pope addressing the faithful for Easter, but then something like this comes along and captures the Easter spirit so perfectly: Mexicans celebrating the holy day by burning a Donald Trump effigy.
MORNING MEME
We love these trippy Easter eggs.
OTHER LOCAL NEWS
Candy-Crazed Jerks Ruin Everything
An Easter egg hunt in Connecticut ended in disgrace after angry parents got physical, rushing the field trying to get candy for their children and, in at least one instance, actually injuring a kid. The event, sponsored by Pez, is just the latest chapter in that company's long and violent history. [CNN]
Family Exploits Sad Old Man for Profit, Calls It a Meme
In a very bizarre internet event, a photo of a sad grandfather eating alone after he cooked burgers for his grandchildren who never showed up, has gone viral. So of course the "Sad Pawpaw" family hosted a cookout, selling burgers, and T-shirts with hundreds showing up and one family driving nine hours just to meet him. We don't understand this at all. [News9]
HAPPENING TODAY
Talk Show Hosts Rejoice: Blagojevich Back in the News
Rod Blagojevich, the latest in a long line of corrupt, disgraced Illinois governors, will find out today if the Supreme Court will hear his request to overturn his multi-charge corruption conviction. If not, or if the appeal fails, Blagojevich can expect to spend the next 14 years behind bars. [Chicago Tribune]

As Reality Becomes Unbearable, VR to the Rescue
The era of virtual reality officially begins today as the Oculus Rift ships to regular consumers for the first time. The Oculus Rift is the first in a series of personal virtual-reality headsets that will become available this year. [Forbes]

Obama to Address Press at Toner Prize Dinner
Obama will be the keynote speaker tonight at the annual Toner Prize for Excellence in Political Reporting awards dinner, an event that celebrates America's free press. Journalists hope the president will address his administration's perceived shortcomings in transparency and his failures to deal forthrightly with the press. [NYT]