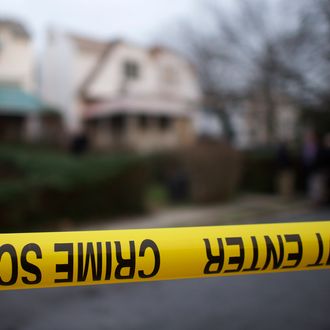 The motive for the shooting is unknown.
Photo: Mark Makela/2016 Getty Images
Good morning and welcome to Fresh Intelligence, our roundup of the stories, ideas, and memes you'll be talking about today. In this edition, two gunmen kill five people at a backyard party near Pittsburgh, Democrats debate in Florida, and America's first uterus transplant fails. Here's the rundown for Thursday, March 10.
WEATHER
Three people have died in record-breaking flooding in Louisiana and a state of emergency has been declared. Heavy rains continue through Texas and up to Illinois. Serious rain is also pouring on the West Coast, while New York will be overcast and warm — in the mid-70s — with a chance of rain as well. [Weather.com]

FRONT PAGE
Five Killed in Pennsylvania Shooting
Five people are dead and three more are injured after gunmen opened fire at a backyard party in Wilkinsburg, a suburb east of Pittsburgh last night. Police say they believe two shooters were involved, and both are still at large. It appears the victims were killed trying to escape into the back door of the residence. Two men are in critical condition and a woman is described as stable. Witnesses say they heard more than 20 shots fired. The motive for the ambush-style shooting is unclear. [NBC]
EARLY AND OFTEN
Democratic Debate Heats Up Over Immigration
Hillary Clinton and Bernie Sanders went head-to-head at a debate in Miami last night. The debate, which was hosted by the Washington Post and Univision, focused heavily on immigration and Donald Trump, whom the candidates wouldn't call racist for some reason.
Endorse-Nobody Movement Gathers Steam in Chicago
The Chicago Tribune has refused to endorse either Bernie Sanders or Hillary Clinton for the Democratic nomination, criticizing their unrealistic promises and dependence on high government spending. Before you say the Tribune is being reasonable, it did endorse Marco Rubio. [Chicago Tribune]

Election Strangeness Now Total
Just when you think this fever dream of an election season couldn't get any more outlandish, something like this happens. The Gilded Age robber barons the Koch brothers have come out in favor of Vermont's red menace, Bernie Sanders. The Koch's Freedom Partners group released a video praising Sanders's opposition to the Export-Import Bank and corporate welfare. [Politico]

Texas Courts to Hear Keep Voting White Voter ID Law
Texas's 5th U.S. Circuit Court of Appeals will allow the state to present its case for a controversial voter-ID law that was previously rejected by a panel of federal judges, who said it was discriminatory against black and Hispanic voters. The courts will hear the case in a rare "en blanc" hearing, meaning it will be presented in front of the full panel of 22 judges, which sounds incredibly intense. [Dallas Morning News]
THE STREET, THE VALLEY
Mystery of How Volkswagen Exec Still Has Job Is Over
Volkswagen Group of America's president and CEO has stepped down. Under his guidance, the company fraudulently reported emissions on diesel cars and sold vehicles with 40 times the legal limit of harmful emissions. [Reuters]

Senators Take Side in Apple-Encryption Fight — Guess Which Side
It looks like a much-anticipated bit of legislation threatening companies with civil fines and legal consequences if they refuse to help the government access encrypted information is just about done. The legislation could debut in the California Senate as early as next week. So the Senate is willfully pissing off basically every billionaire in the state? Maybe Bernie is wrong about how politics works. [Reuters]

Spring Break Ruined
Corona is recalling some of the 12-ounce bottles it sold in the United States because they might contain small pieces of glass. Nobody has reported finding any glass yet, but damaged bottles were found at two factory inspections. The company acted just in time — just imagine all of the frat bros who could have been injured. [Bloomberg]

America's First Uterus Transplant Fails
A groundbreaking procedure, much in the news recently, has failed. Two weeks after a 26-year-old patient received the first uterus transplant in this country, she suffered unknown complications and doctors had to remove it. Meanwhile, Sweden for some reason has been able to transplant uteruses no problem.
MEDIA BUBBLE
Sony Distances Itself From Accused Rapist, Not R. Kelly
There is talk that Sony is preparing to drop Dr. Luke, the star producer who Kesha accused of sexual abuse and took to court earlier this year. For what it's worth, Sony has not commented and Dr. Luke has denied he is being dropped. Also, the outpouring of sympathy for Kesha, and disgust at Dr. Luke, from celebrities and consumers both, is making Sony look terrible.

Wired Does Something Delightful
Thanks to a naughty Chrome extension, it seems Wired has been publishing stories online in which every mention of Donald Trump has been replaced with "Someone With Tiny Hands" — this seriously happened. The magazine should be safe from libel suits because everything it published is technically true. [Gizmodo]

World's Prayers Answered: Internet Gets More Food Videos
YouTube co-founder Steve Chen has just launched Nom, a platform for live-streaming channels about cooking and eating food. The venture has backing from — bizarrely — Korean pop sensation PSY and actor Jared Leto, two of our favorite names in food! [VentureBeat]
PHOTO OP
Just for the Halibut
In case you're wondering what all the dignitaries were eating at the White House's state dinner last night in honor of Canadian prime minister Justin Trudeau, here it is: a bit of halibut with a hockey-puck-sized pad of butter on top. We call it the fat cat's delight.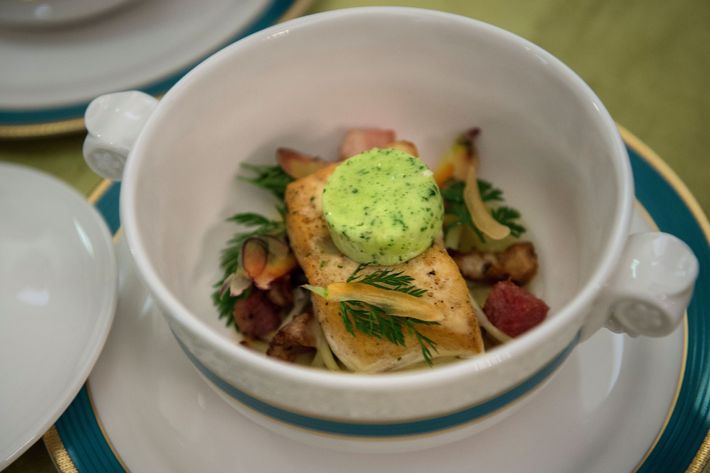 MORNING MEME
Is it possible that this entire election is some kind of group hallucination? All signs point to yes.
OTHER LOCAL NEWS
Why You Shouldn't Name Your Kid Irony
A 4-year-old in Putnam County, Florida, managed to shoot his mother, an outspoken gun-rights proponent, in the back while she was driving. The child was sitting in his car seat behind his mother when the gun he was playing with went off. His mother is recovering nicely and will be fine.

Aurora Cops Win Right to Shoot at Cars
This month begins an exciting time for police in Aurora, Colorado. They can now shoot at moving cars. In order to shoot at the vehicle a person in the vehicle must be "immediately threatening someone with deadly force by means other than the vehicle." How shooting at their car will help is not explained. [Denver Post]
HAPPENING TODAY
Republicans Debate in the State Trump Owns
Does it seem like this campaign season has more debates than usual? Well tonight there is another one, this time in Miami and hosted by CNN. The GOP candidates might have to change up their discourse for the Magic City; expect much more about how Cuban Ted Cruz and Marco Rubio are, and much less about what Donald Trump wants to do to people who aren't white. [Fox]

Space Gets Shafted
The Senate subcommittee that handles NASA's budget is meeting today and nobody from the agency is feeling very hopeful. Cutting funding for NASA has become something of an American tradition. [The Planetary Society]