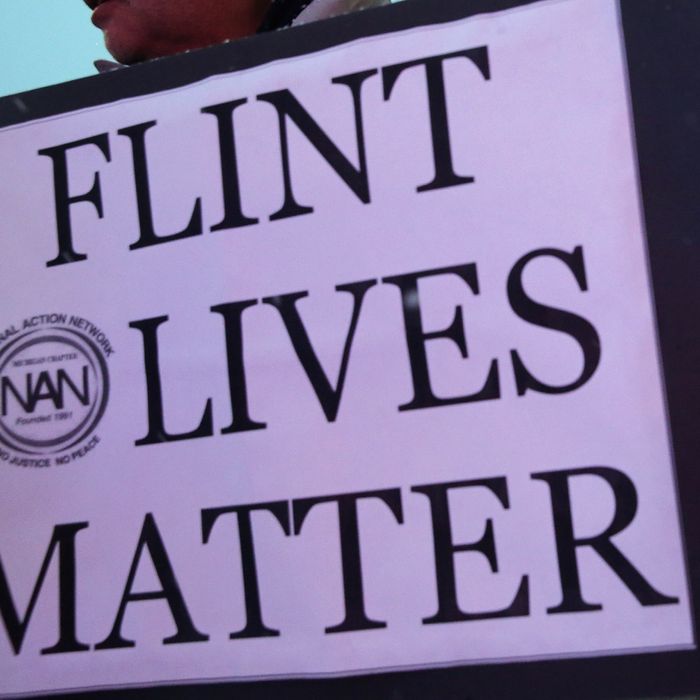 Flint lives matter.
Photo: Chip Somodevilla/Getty Images
Good morning and welcome to Fresh Intelligence, our roundup of the stories, ideas, and memes you'll be talking about today. In this edition, a Flint panel points the finger at the government, Giuliani plays the "Hillary is in ISIS" card, and The New Yorker changes up its caption contest. Here's the rundown for Thursday, March 24.
WEATHER
Blizzards in the Rockies are getting so bad that the National Guard has been called out, and more than 1,000 flights out of Denver have been canceled; thanks to the same storm, a state of emergency is in effect in Wisconsin, and heavy snows have even been reported as far west as California. In New York, today will be mild if cloudy, but tonight should be a wet one. [Weather.com]
FRONT PAGE
Flint Crisis Panel: Government Does Not Care About Poor People, Minorities
We're guessing Governor Rick Snyder is regretting appointing that independent panel to investigate the Flint water crisis right about now. The panel's findings were released yesterday, and it blamed the lead-tainted water on "government failure, intransigence, unpreparedness, delay, inaction and environmental injustice." The report said the government failed to act more quickly partially because it didn't care about poor people and minorities, and blamed officials at every level of the state government. [NYT]

EARLY AND OFTEN
Certain Loser Is No Quitter
After Donald Trump won Nevada, the anxiety in the Republican camp became a full-blown panic with everyone calling on John Kasich to drop out of the race and unite against the Donald. Well, Kasich is having none of it. In fact, it looks like he actually thinks he has the best chance of besting Trump for the nomination. Will someone please explain to him how delegates work? [NYT]

Candidate Snags Coveted Failed-Candidate Endorsement
Trounced presidential candidate Jeb Bush came out in support of Ted Cruz yesterday, calling him a "principled conservative" — even though it was a written statement, you can almost hear his teeth grinding. Following his endorsement, Jeb went back to disappearing entirely from the national consciousness. [USA Today]

Giuliani Confuses Reality With 24 Episode
In what would seriously be a crazy twist if it were true, Rudy Giuliani told Bill O'Reilly yesterday that "Hillary Clinton could be considered a founding member of ISIS." So, which is it? Founder of history's most successful terrorist organization or totally incompetent? [Politico]

Cruz Campaigns in New York:  Welcomed With City's Customary Warmth and Affection
Ted Cruz made a rare appearance in the city where he is perhaps the least popular in the whole country — aside from Washington, D.C. In a fairly desperate plea for votes, Cruz doubled down on his disdain for the modern-day Gomorrah, saying if he were elected he would pretty much change everything about New York. So, basically, Giuliani's mayoral platform. [CNN]
THE STREET, THE VALLEY
Last Pleasant American Airline Under Threat
Rumor has it that billionaire Richard Branson is taking seriously offers to buy his company Virgin America. Following the news, stocks jumped a full 10 percent. After the surge, Virgin America is now valued at $1.5 billion. [Bloomberg]

When Rockefellers Think Your Financial Scheme Goes Too Far, It's Time to Reassess
The Rockefellers have sold their stakes in Exxon Mobile and will soon ditch all of their investments in fossil fuels, arguing that the days of fossil fuels are basically numbered and calling Exxon in particular "morally reprehensible." John D. Rockefeller helped create Exxon Mobile in the 1880s. [Reuters]
Billionaire to Fund Risky Science. What Could Go Wrong?
Microsoft founder Paul Allen announced yesterday that he would invest $100 million in a fund that supports cutting-edge bioscience research, saying the money would allow scientists to take risks and risks beget breakthroughs. [TechCrunch]
Robot Takeover Starts With Caption Contest
New Yorker cartoons are no longer merely a commentary on contemporary mores — they may also soon become tools to teach robots how to be funny. The New Yorker just controversially announced it is using crowdsourcing algorithms to find a winner for its beloved-by-shut-ins-and-failed-writers caption contest. Now scientists want to use that data to program robots to have a sense of humor. A dry, elitist sense of humor we rarely get, but a sense of humor none the less. [CNet]
MEDIA BUBBLE
In an Obviously Good Sign, Vice Will Not Reveal TV Ratings
Weeks after launching its new television channel Viceland, the company would like to assure you it is doing just fine. Even though they won't release their ratings, the powers that be at Vice Media will say that most of their viewers still prefer to watch content online and that their most popular show was something called Weediquette. Their least popular was the second episode of Gaycation. [Bloomberg]
Vice Partners With iTunes for Documentary
One of the many new endeavors for Vice Media is a documentary series exclusively for iTunes called The Score. The two companies announced the new six-part series yesterday. The Score will investigate a different local music scene in each episode; the first episode is about Native American rap in Minnesota. [The Verge]

Netflix Picks Up New Show From Cary Fukunaga, Nothing From Nic Pizzolatto
Netflix is going to run a new series from Cary Fukunaga. Maniac, a dark comedy based on a show from Norway (so probably a very dark comedy), will star Jonah Hill and Emma Stone — oh, so maybe not so dark. [A.V. Club]
PHOTO OP
Martha Stewart: Roll Model
We should all aspire to be as happy as a Champagne-drunk Martha Stewart barefoot hoverboarding through a luxury apartment in Qatar.
MORNING MEME
We don't see what the big deal is; Bernie Sanders basically stole his whole campaign from Bulworth. [GQ]
OTHER LOCAL NEWS
Not the Best Week for These Duplex Owners
Two owners of a duplex in Rowlett, Texas, are going through something of a rough patch. First a tornado severely damaged their homes; then, while waiting for the insurance to come through, a demolition company accidentally knocked down their whole duplex. The company was supposed to tear down a house in the next block. This kind of thing must happen all the time. [ABC]
Two Friends Do Everything Right
Two friends were both arrested for drunk driving after a night out in Salem, Massachusetts. Here's the thing: They were in the same car. After the first driver crashed into a signpost they did the responsible thing and switched drivers. Then the second driver crashed into a parked car, and backed into a police cruiser. That really could have happened to anyone. [UPI]
HAPPENING TODAY
Amazon Gets Into the Virtual-Reality Game
Even though they won't start shipping until October, Amazon will be selling Sony PlayStation VR bundles today — after its first stock sold out pretty much immediately on Tuesday. It looks like virtual reality has people really excited. [The Verge]

Secretary of State in Cage Fight Talks With Vladimir Putin
Secretary of State John Kerry is in Moscow today to meet with Russian president Vladimir Putin and discuss the future of Syria and the sputtering peace process there. [WSJ]
Verdict Expected in Europe's Worst War Crime Since World War II
U.N. judges will pass down the verdict today of Bosnian Serb leader Radovan Karadžić, who stands accused of genocide for his role in the 1995 Srebrenica massacre. [NYT]