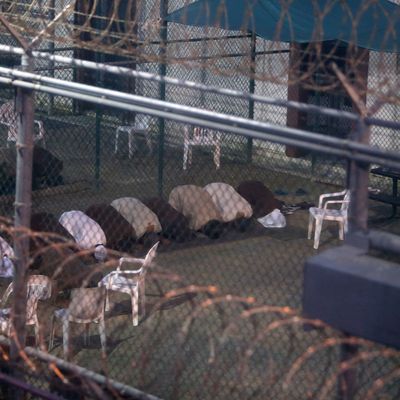 Guantánamo inmates in prayer.
Photo: Walter Michot/Miami Herald
Good morning and welcome to Fresh Intelligence, our roundup of the stories, ideas, and memes you'll be talking about today. In this edition, the Obama administration's effort to empty Guantánamo Bay continues, Trump's abortion comments alienate everyone, and the court will depose Hugh Hefner in Bill Cosby's sexual-assault suit. Here's the rundown for Thursday, March 31.
WEATHER
Already severe weather in the South is getting more extreme with storms, hail, tornadoes, and even fires caused by lightning strikes. A tornado watch is in effect in four states from Texas through Arkansas, Oklahoma, and Louisiana. We almost feel guilty saying this, but New York should be warm and only a bit overcast today. [Weather.com]
FRONT PAGE
The Defense Department Plans to Transfer 12 Guantánamo Prisoners
The Pentagon has informed Congress that it plans to transfer a dozen inmates currently being held at Guantánamo Bay in the coming days and weeks. There are currently 91 prisoners being held at Guantánamo Bay, and 37 have been approved for repatriation or resettlement in various countries. The Obama administration's effort to close the Cuba-based detention center has been met with stiff opposition, but it's hoping to at least have the 37 approved transfers completed by summer. [NYT, WaPo]
EARLY AND OFTEN
Trump Discusses Abortion With Maturity and Nuance
Against all odds, Donald Trump proved yesterday that he still has the capacity to shock. At an MSNBC town-hall event Trump said that if abortion becomes illegal in the United States women who have abortions should be punished. This time, Trump even managed to offend die-hard pro-lifers who issued a statement saying they disagreed with him. Trump has already changed his tune, saying he thinks only the abortion providers should be punished. So you know, everyone just relax.

Poll: Wisconsin's Love of Cheese Overstated
A new poll from Marquette University Law School has Ted Cruz leading Donald Trump by a full ten points, when as recently as late last month, it was Trump who was leading by ten points. The poll also found Sanders slightly — four points — in front of Clinton. Wisconsin's primary is on Tuesday. [NYT]
Expect Sanders Conspiracy-Theorist Smugness
Bernie Sanders has hit a bit of a set back in the lead up to Washington D.C.'s primary: His name won't be appearing on the ballot. Now that's an anti-Establishment candidate. Thanks to some late paperwork — not the Sanders campaign's fault, apparently — only Hillary Clinton's name will appear on the June 14 primary ballot. The Sanders camp is confident this will all be sorted out in time. [Fox]
What's the Opposite of an Endorsement?
Wisconsin's biggest newspaper, the Milwaukee Journal-Sentinel, is not a fan of Hillary Clinton and they are making their feelings known widely and just in time for Tuesday's primary. Let's just quote the paper: "Clinton has a long track record of public service but an equally long record of obfuscation, secrecy and working in the shadows to boost her power and further her ambition. We encourage voters to think long and hard about that record when choosing the next president." Damn. 
THE STREET, THE VALLEY
Boeing Has Most Successful Year in History, Still Cuts 8,000 Jobs
Airplane giant Boeing announced yesterday that it would cut 4,000 jobs from its commercial-airline division. Sources say that's only the beginning and that Boeing actually intends to cull its commercial work force by as much as 10 percent or 8,000 jobs. We just assume they will all be mechanics and safety testers. All this is made confusing by the fact that Boeing is producing more jets than anytime in its history. [Reuters]
MetLife Fights for Right to Fail
A federal judge has ruled against the decision by government regulators that MetLife is too big to fail. That may sound like a bad thing but it's being reported everywhere as a victory; the move gives the company much more freedom to sell, go public, and distribute its funds. [Bloomberg]
Microsoft Keynote Even More Boring Than Apple Keynote
Microsoft's much-anticipated Build Keynote kicked off yesterday. Microsoft's events have historically had less razzle dazzle — and turtlenecks — than its flashier rival's, but that doesn't mean it was totally without interest. The company unveiled its virtual reality HoloLens and a robot personal assistant that can order you a pizza. Finally! [CNet]
Microsoft Jerk-Bot Can't Be Stopped
In a nice metaphor for the coming robot war, Microsoft's horny, racist-tweet bot Tay was back online yesterday tweeting nonsense even though her creators claimed they had shut her down. Microsoft says it briefly turned her back on for "testing" but we know what's really going on: sentience. [The Verge]
MEDIA BUBBLE
Trump Trump Trump Trump Trump
A two-week study out of the USC Annenberg Center on Communication Leadership and Policy that investigated how much coverage presidential candidates are getting on news websites' front pages concluded that Donald Trump is appearing … a lot. In just seven days, Trump was mentioned in homepage headlines 1341 times, just barely ahead of Hillary Clinton, who came in second with 361 mentions. [Medium]

The Times Is Becoming Quite a Headache for the NFL
Yesterday, the NFL asked the the New York Times to retract a front-page story that said the league had connections to the tobacco industry and that their research into the effects concussions had on players was "deeply flawed." Today the Times responded: Nope. [PoliticoMedia]
Hefner Will Be Deposed in Cosby Lawsuit
The prosecutor in a sexual-battery civil suit against Bill Cosby shocked the court yesterday when she announced plans to depose a 90-year-old Hugh Hefner. Her client, Judy Huth, alleges Bill Cosby sexually assaulted her at the Playboy Mansion in 1976 when she was just 15 years old. [NY Daily News]
PHOTO OP
Amateur Night
Like it or not, the campaigns are coming to New York. Here's Hillary doing something at the Apollo Theater in Harlem.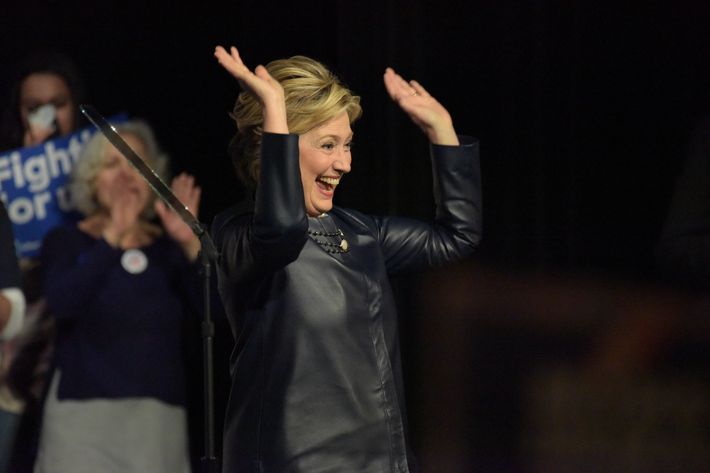 MORNING MEME
Helpful Spring Break advice from the State Department. Our government is such a jerk sometimes.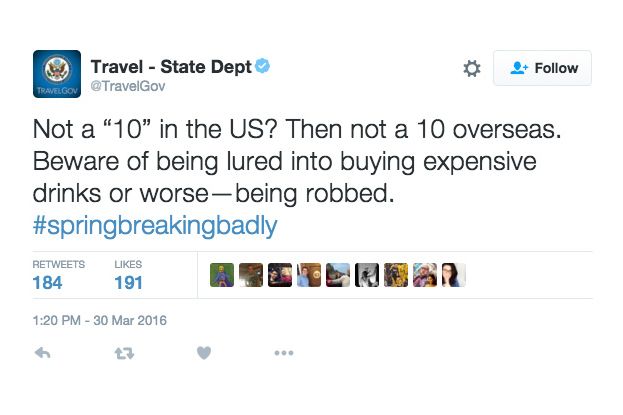 OTHER LOCAL NEWS
School Teacher Saves Countless Squirrels
A teacher in Hot Springs, Arkansas, preempted a deadly rampage when she reported seeing armed men on her school's campus — deadly squirrel rampage, to be precise. After the school was put on lockdown, it was discovered that the two men — armed with pellet guns — were exterminators come to cull squirrels in a nearby apartment complex. This story is nuts. [AP]
Good Boy!
Christmas has come extremely early for a family in Ellisville, Mississippi, whose dog returned home from "wandering the neighborhood" with a pound of marijuana in its mouth. This dog sounds amazing; not only does it bring you free drugs but also it walks itself. [UPI]
HAPPENING TODAY
Obama Has One Last Chance to Save World
Washington is hosting Obama's last nuclear-security summit today, where the president will talk to leaders of the world's nuclear powers and push them to disarm and better secure their nuclear material. Except for Russia, which is not coming because it's mad about something. Bomb them. [Christian Science Monitor]

Biden in Thursday Turkey Talk
Vice-President Joe Biden will meet with Turkish president Recep Tayyip Erdoğan in Washington today in what is pretty obviously an insult. A charming insult that tells good jokes and has great teeth, but an insult nonetheless. [Euronews]
Tesla Three Unveiled
Elon Musk's Tesla Model 3 will launch tomorrow. The hotly anticipated electric sports car will be considerably more affordable than its predecessors. Let's see if Tesla manages to hit that sweet spot where most people still can't afford it, but rich people think it's too cheap. [The Week]