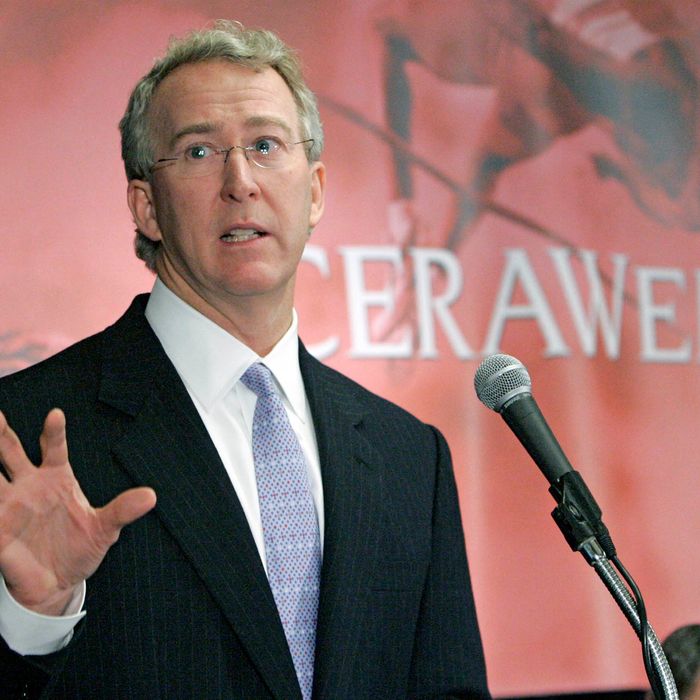 Aubrey K. McClendon, chairman and CEO of Chesapeake Energy Corp.
Photo: Bloomberg / Contributor
Good morning and welcome to Fresh Intelligence, our roundup of the stories, ideas, and memes you'll be talking about today. In this edition, an energy executive dies in a fiery crash, Ben Carson's campaign might be over, and airlines scramble for Cuba routes. Here's the rundown for Thursday, March 3.

WEATHER
New Yorkers, don't be fooled by the fairly warm temperatures and sunny skies: Snow is coming and will probably be here by late tonight. In San Francisco, when it rains it pours, literally. The drought-struck region may be in for two full weeks of rain. [Weather]
FRONT PAGE
Fracking Billionaire Dies in Michael Clayton–Reminiscent Incident
Aubrey McClendon, billionaire, NBA owner, and former CEO of Chesapeake Energy, died in a fiery car crash in Oklahoma City yesterday. His death comes just a day after he was indicted on charges of conspiracy to rig bids. McClendon apparently crashed full speed into a bridge wall and showed no signs of trying to stop. McClendon made a name for himself at Chesapeake Energy where he expanded its shale-gas mines before he was forced to step down in 2013. He was 56.
EARLY AND OFTEN
Bad Apple, Bad Tree
Donald Trump, Jr. is claiming he gave an interview to a white-nationalist, hatemongering radio host by accident. The Little Donald claims he was talking with someone else when James Edwards — who the Southern Poverty Law Center says spreads hate, encourages white ascension, and promotes anti-Semitism — just hopped on the phone line and started asking questions. Edwards says he will run the interview on his radio show Political Cesspool — how perfect! — over the weekend.

Supreme Court Split Over Landmark Abortion Case
The Supreme Court seemed divided yesterday during questions regarding a Texas state law that would require abortion clinics to meet the same standards as surgical clinics. If the law stays in effect, more than half of the state's 40 clinics would be forced to shutter permanently. While pro-choice advocates are likely relieved Antonin Scalia is no longer around to cast judgment, if the eight justices tie, the appeal-court ruling would remain in effect, upholding the law. [USA Today]

Carson Can't Even Quit Right
Ben Carson has finally admitted he doesn't "see a political path forward" and says he will not attend Thursday's debate. But don't leap to any conclusions, no matter how forgone they are. Carson still has not said that he is dropping out of the race. Today, just like every other day, nobody has any idea what Ben Carson is doing.

Koch Brothers: Evildoing Cheaper Than Ever
The Koch brothers, the Republican puppet masters and possessors of an often-mispronounced last name, have announced through a spokesperson that they will not use their considerable fortune or influence to stop Donald Trump. Their decision has angered Establishment Republicans, and of course billions of other people the world over.  [Reuters]
THE STREET, THE VALLEY
Newly Wealthy Whistleblower Vindicated
John Slowik, who worked for more than 50 years at the medical-device unit of Olympus before he was fired in 2010, will receive $51 million after he exposed a culture of bribery and kickbacks at the company. Olympus Corporation of the Americas will have to pay fines of $646 million. [CNN]
Rolling Stones Spark Airline Scramble
Just two weeks after U.S. and Cuban officials signed an agreement restoring commercial air service between their two countries, and a few days after the Rolling Stones announced a concert in Havana — the first rock show in Cuba since the '50s — American airline carriers are battling for regulatory approval to start flying there. Only 20 round-trip flights to Havana are allowed by the current deal, but carriers want to fly at least 39. [Reuters]
Google Renders Pickpocketing Either Obsolete or Super Easy
Google rolled out a new payment app yesterday called Hands Free. The idea is that you will soon be able to pay for things without even having to get your phone out of your pocket. You just tell the teller you want to pay with Google, they check your picture on their computer, and beep boop beep boop — we're just guessing on the noise here — you've bought another thing you don't need. [The Verge]

Obama Actually to Blame This Time
Oscar, the medical startup with all of those subway ads, lost a whopping $105.2 million dollars because of Obamacare for some reason. The startup, valued at $2.7 billion, is trying to change the traditional health-care model and partners with smaller groups of doctors and hospitals than traditional insurers. Despite the losses, CEO Mario Schlosser still feels the market is "viable." [Bloomberg]
MEDIA BUBBLE
Game of Thrones Takes Itself Too Seriously
The much anticipated Game of Thrones season six is such a big secret that HBO won't even release any episodes to the press early. Enjoy your shallow, underinformed reviews, nerds. [Variety]

Finally, Mobile Video Content for Millennials
Verizon Communications and Hearst have teamed up to create original online video content for Millennials. What does that mean? Apparently, RatedRed.com, a channel about music, the military, food, and faith, and Seriously.TV, a comedy-news channel. That covers Millennials, pretty much. [NYT]

Hollywood in the Qatar
Miramax, the Weinstein brothers–founded film distributor behind 278 Oscar-nominated films, has been sold to beIN Media Group, a Qatari-based, sports-focused spin-off of Al Jazeera Media Network. Before you go clutching your pearls, it was sold in part by another Qatari-based group that already partially owned it. [Bloomberg]
PHOTO OP
U.N. Votes in North Korea Sanctions
Behold, a rare photo of the U.N. actually accomplishing something. This is the United Nations Security Council voting yesterday to begin new sanctions on North Korea. North Korea responded by promptly shooting a missile. It's not a perfect system, but it's a system.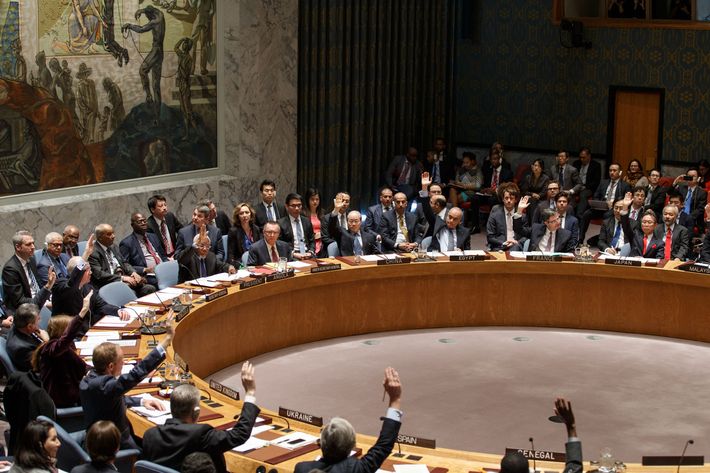 MORNING MEME
Weirdly, this hair-eating, child-scaring version of Ted Cruz is more likable than the actual Texas senator.
OTHER LOCAL NEWS
Hoisted By Her Own Petard
In a tragic accident, a woman in North Cumberland, Pennsylvania, died after she fell and her medical-alert bracelet got stuck on her walker, strangling her. She was 86. First vaccines, now this? You really can't trust the medical establishment at all. [AP]

Love Is Dumb and Destructive and Expensive
A teenager caused thousands of dollars worth of damage in Anchorage, Alaska, when a love letter from an ex-girlfriend that he was burning accidentally set the whole playground on fire. It's safe to say she had the last laugh. [AP]
HAPPENING TODAY
Trump to Battle GOP Candidates and/or Moderators at Debate
The Republican candidates are particularly testy after Donald Trump's Super Tuesday sweep, so tonight's debate in Detroit should be exciting. Plus, Fox News is hosting, so even if the candidates go with their old strategy of letting Trump say basically whatever he wants, Megyn Kelly will be there to terrify the mogul and bring out his worst.

Romney Is Not President. Why Is This Allowed?
Mitt Romney, the well-known non-president, will give a speech tomorrow at the University of Utah's Hinckley Institute of Politics Forum. He will address the state of the 2016 presidential race and is expected to criticize Donald Trump. The Republican Establishment must be so relieved that Mitt is here to fix everything. That was a really close one. [CNN]
Apple's Squad Turns Up
About 40 companies are set to file briefs today in support of Apple in its battle with the federal government over the whole security-versus-privacy thing. Facebook, Google, Yahoo, Microsoft, Snapchat, and pretty much all the big ones are planning to file. More than 40 influential individuals are also expected to file briefs supporting Apple. [NYT]